You can now ask your questions about this election.
Please go to the bottom of this page.
Party: DMK Dravida Munnetra Kazhagam
State : Tamil Nadu
Facility : Reach Your MLA
Reach Here : http://mkstalin.in/
Reach Your MLA :
I am your friend and I am here to help. Kindly fill in this form to ask for information you want to say/ask.
Related : DMK MK Stalin Connect Volunteer Online Registration : www.electionin.in/4117.html
** Enter Name
** Enter Email Id
** Enter Mobile No
** Select Why you want to connect ?
** Enter Description
** Enter Code
** Click Submit Button
M.K Stalin lauches "REACH YOUR MLA" initiative in Kolathur Constituency.
You can contact throuigh the number 7810878108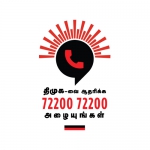 (Visited 15 times, 1 visits today)