ceoorissa.nic.in Booth List : CEO Odisha
Organisation : Chief Electoral Officer Odisha
Facility : Booth List
Applicable State : Odisha
Home Page : http://ceoorissa.nic.in/
You can now ask your questions about this election.
Please go to the bottom of this page.
CEO Odisha Booth List
Kindly follow the below steps to view the Booth List
Related / Similar Service :
CEO Odisha Track your Application
How to Search?
Visit the official website and click on the "Booth List" link in the home page.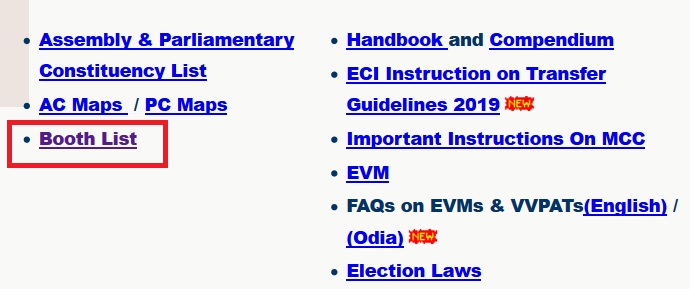 Step 1 : Select Your District
Step 2 : Select Your AC
Step 3 : Click Show Button

Booth List Details
District : Badanki
AC : Padampur
Part No & Name Polling Station Building :
1-Badanki Badanki PUPS
2-Kukripali Kukripali PUPS
3-Ureidadar Ureidadar PUPS
4-Beheraduburi Beheraduburi PS
5-Loharasingh Loharasingh PUPS
6-Dewanpali Dewanpali PUPS
7-Kurlupali Kurlupali UGUP
8-Dabpali Dabpali PS
9-Bhandarpuri Bhandarpuri UGHS
10-Jampali Jampali PUPS
11-Chhotanki Chhotanki PUPS
12-Ghuchapali Ghuchapali PS
13-Bolangir Bolangir UGUP
14-Rajendrapur Rajendrapur PUPS
16-Dava Dava PS
18-Anagul Anagul UGUP
19-Suryamanipur Suryamanipur PUPS
20-Bhainsadaha Bhaensadarha SS
21-Niljipatra Niljipatra PUPS
22-Laudidarha Laudidarha SS
23-Gaudmal Gaudmal PS
24-Kurma Kurma PS
25-Sikaripali Sikaripali PS
26-Nuapada Nuapada PS
27-Putuka Putuka UGUP
28-Khirapali Khirapali PS
29-Jagdalapur Jagdalapur PS
30-Dhaurabhata Dhaurabhata PS
31-Badkunjari Badkunjari PUPS
32-Sankunjari Sankunjari PUPS
33-Saramsili Saramsili PUPS
34-Chiroli Chiroli PS
35-Jatesira Jatesira PUPS
36-Dunguripali Dunguripali UGUP
37-Mahagaon Mahagaon PS
38-Chandibhata Chandibhata Nodal UPS
39-Adapani Adapani PS
40-Dudukidadar Dudukidadar PUPS ( )
41-Sargul Sargul PUPS
42-Kusumadarha Kusumadarha NO UPS
43-Kandadangar Kandadangar NO UPS
44-Bijadhol Bijadhol Ashram School
45-Bandamunda Bandamunda PS
46-Bhandarjori Bhandarjori PS
47-Nityanandapur Nityanandapur UGUP
48-Bilasapur Bilasapur UGUP
49-Kasipani Kasipani PUPS
50-Saldihi Saldihi UGUP
51-Iskinda Iskinda PS
52-Pagarpani Pagarpani PS
53-Gothuguda Gothuguda UGUP
54-Kotna Kotna Nodal UPS
55-Jharbandh Jharbandh Nodal UPS(East)
56-Jharbandh Jharbandh Nodal UPS(East)
57-Shakti Shakti PS
58-Lergan Lergan PUPS
59-Kumir Kumir Sevashram
60-Tampar Tampar PS
61-Turla Turla UGUP
62-Tuhungidadar Tuhungidadar UGUP
63-Sandadar Sanadadar PS
64-Dungurichadha Dungurichadha PUPS
65-Putukidungari Putukidungari PUPS
66-Sankri Sankri SevS
67-Tumuripani Tumuripani PUPS
68-Baitali Baitali PS
69-Amathi Amthi PUPS
70-Jogendranathapur Jogendranathapur pups
71-Bhubaneswarapur Bhubaneswarapur SS
72-Bhubaneswarapur Bhubaneswarapur SS
73-Kapilasapur Kapilasapur PUPS
74-Parashakhandi Parashakhandi PS
75-Brahmanadihi Brahmanadihi UGUP
76-Chhetagan Chhetagan PS
77-Ghuchapali Ghuchapali PS
78-Kutramal Kutramal PUPS
79-Mundela Mundela PS
80-Mandiadhipa Mandiadhipa PS