ceoandhra.nic.in / ceoaperms.ap.gov.in Know your Application Status : CEO Andhra Pradesh
Name of the Organisation : Chief Electoral Officer Andhra Pradesh (ceoaperms.ap.gov.in)
Type of Announcement : Know your Application Status
State : Andhra Pradesh
Website : http://ceoandhra.nic.in/ceoap_new/ceo/index.html
You can now ask your questions about this election.
Please go to the bottom of this page.
CEO Andhra Know Application Status
To Know your Application Status please follow the steps mentioned below,
Related / Similar Service :
CEO Andhra Pradesh Search BLO Details Online
1. Visit the CEO Andhra Pradesh official website
2. Select E-Registration link -> Assembly Constituency -> Know your Status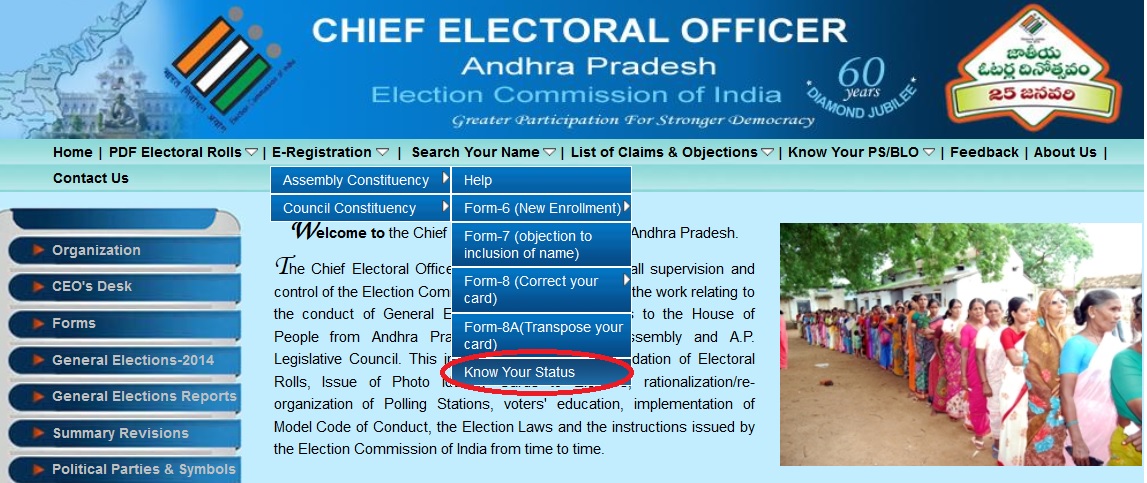 Step 1 : Select Application ID or House Number
Step 2 : Select Form-6 or Form-7 or Form-8 or Form-8A
Step 3 : Enter Id (as per your selection)
Step 4 : Click on the Search button

For any Election related enquiry, Please call our Help Line. CallCenter No. 1950.
Know Your Appeal Status
To Check your Appeal Status Enter your Voter ID/Epic ID (Or) Enter  Appeal ID and Click on Status button.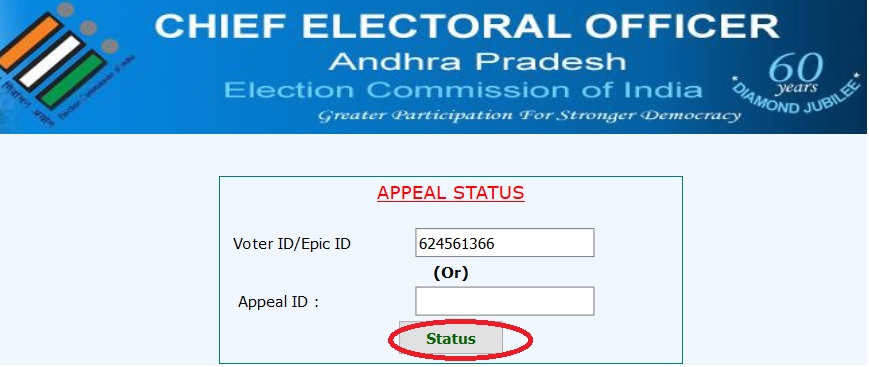 Go to : http://ceoaperms.ap.gov.in/EPIC_APPEAL/APPEAL_ACKNOWLEDGEMENT.aspx
Verify Name in Electoral Roll via SMS
Send SMS to 9223166166
AP <SPACE> VOTE <SPACE> VOTERID NO Example:- AP VOTE ABC1234567
(OR)
Send SMS to 51969
AP <SPACE> VOTE <SPACE> VOTERID NO Example:- AP VOTE ABC1234567
FAQs
Q.1 I have shifted my residence recently. I have Photo ID Card with the old address. Can I get new ID Card for the present address?
Ans .First of all please ensure that you have enrolled yourself in the Electoral Roll of the concerned AC, where you are now residing following the procedure given in ans no.1. Subsequently, changes will be made in the existing Identity Card by pasting the new address on the back side of the card.
Q.2 My old I Card is defective. I would like to have a new I Card with correct particulars. What is the procedure?
Ans. You can get your ID Card rectified by depositing it in the Office of the ERO concerned or at Photography Centre when the work of preparation of Photo ID card begins.
Q.3 I do not have a ration card. Can I get enrolled without a ration card? What are the other documents, which I can show as proof of my residence?
Ans. Ration Card is not essential for enrolment. You can show any other proof of residence like Passport, Bank Pass Book, Driving license etc. or any Govt. document to facilitate the work of registration.
Q.4 I am a tenant and my landlord does not want me to get enrolled. How can I get enrolled as a voter?
Ans . To get enrolled in the voter list is your statutory right. Please check the Electoral roll of your area ERO (SDM)/AERO (MRO) office. If your name is not included please fill up Form 6 and deposit it with the ERO.