ceokarnataka.kar.nic.in : Service Voter Registration & Voting Process
Organisation : CEO Karnataka
Announcement : How Do I Register & Vote for Service Voter
Applicable For : Karnataka
Website : http://www.ceokarnataka.kar.nic.in/
Details Here : https://www.electionin.in/uploads/4978-Service%20Voters.pdf
You can now ask your questions about this election.
Please go to the bottom of this page.
CEO Karnataka Service Voter
** Service Voter is those serving in the Armed Forces of the Union and those employed under the Government of India, in a post outside India
Related / Similar Service :
Link your Aadhaar Number With EPIC Number
Who is a Service Voter?
** Those serving in a Force to which the Army Act 1950 applies (Assam Rifles, CRPF, BSF, ITBF, GREF in Border Road Organisation, Central Industrial Security Force etc.)
** Member of an Armed Police Force of a State, and serving outside that state. Wife of a Service Voter, if she is ordinarily residing with him, shall also be eligible to be enrolled in the part meant for Service Voters in the constituency concerned
Registration in the Electoral Roll
Enrol as a Service Voter
1. Find out the name of your constituency and Part in the district/state of residence
2. Fill 2 copies of w Form 2 for Armed forces; w Form 2A for Armed Police Force; w Form 3 for Govt officials serving abroad
3. Fill the Declaration Form & submit to the Record Office or nodal officer
4. Wife of a Service Voter can be enrolled in the same part made by her husband in the form and no separate declaration is required from her

Enrol as a General Elector
** Alternatively you can also opt to enrol as General elector at place of posting, if it's a peace station.
** You can remain a Service Voter of your native constituency or register as a General Voter at place of posting (if peace station posting).
** Remember to get your name deleted as a Service Voter, when you enrol as a General elector.
Casting your Valuable Vote
Step 1 :  When there is an election in your native constituency, Returning Officer (RO) of your constituency will send you the postal ballot along with two envelopes, a declaration and instructions for voting.
Step 2 : Record your vote by placing clearly a mark X or opposite the name of the candidate of your choice on the ballot paper;
Step 3 : Place the Declaration and also the smaller cover marked 'A' containing the ballot paper in the larger cover marked 'b', which already bears the address of the Returning officer.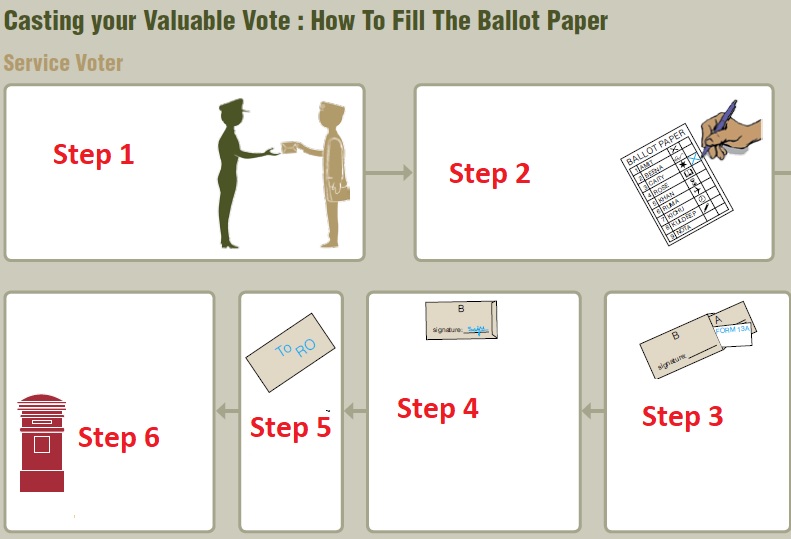 Step 4 : Give your full signature in the space provided on the cover marked `b'. The serial number of ballot paper should be entered on the smaller envelope (Form 13B).
Step 5 : After closing the larger cover, send it to the RO by post or messenger.
Step 6 : No postage stamp need be affixed by you.
Your Vote shall be invalid if :
** if you vote for more than one candidate
** if the mark does not clearly indicate your choice, you mark in between two names
** if you put your signature, any word or sign on the ballot paper
** if the cover is not sealed/ pasted
** if the declaration in Form 13A is not found on opening the outer envelope
** if declaration in Form 13A does not carry your signature or attestation by competent officer