ceowestbengal.nic.in : Registration of PWD Elector Persons with Disabilities
Organisation : Chief Electoral Officer, West Bengal
Facility : Registration of Persons with Disabilities(PWD) Electors
Applicable State : West Bengal
Register Here : http://wbceo.in/WB-PWD/pwd.aspx
You can now ask your questions about this election.
Please go to the bottom of this page.
CEO West Bengal PWD Registration
Facilities to be provided to Persons with Disabilities :
(as per letter no.464/INST/PwD/2016/EPS dated 7th September, 2016 of ECI)
1. Assured Minimum Facility (AMF) to be available for PwD Voters at Polling Stations-
Related / Similar Post : WBECI
a. Permanent ramps with appropriate gradient as per national standards;
b. Braille facility in the EVMs;
c. Proper accessibility to the polling stations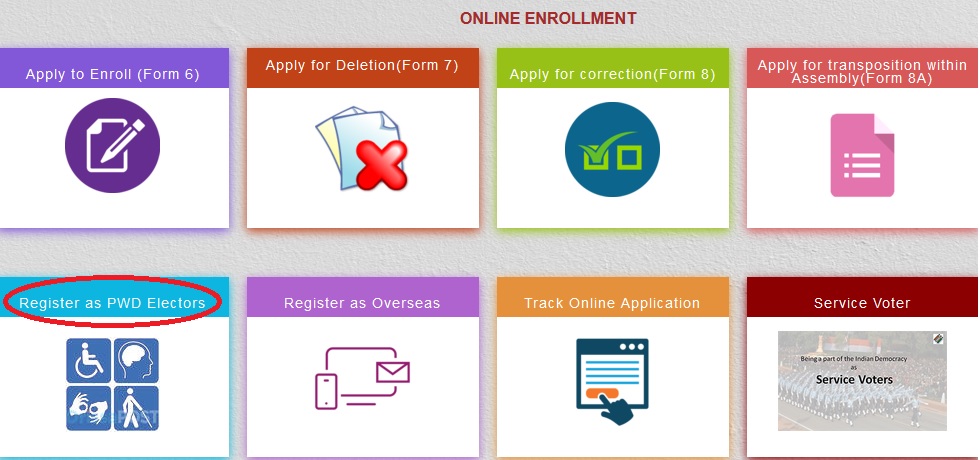 2. Separate queues, sheds, sitting arrangements, waiting rooms, assistants etc. at the polling stations;
3. The Polling Officials to be given proper training to facilitate PwD Electors and to be sensitized about PwD requirements;
4. Proper environment building and SVEEP activities for ethical voting;
5. Dissemination of information regarding available facilities to be made known to the Stakeholders, Political Parties, Election Machinery, Media, Electors;
6. Other facilities according to the needs of the PwD Electors like proper toilets, tactile signage outside the polling stations and Voters' Guide in Braille for the visually impaired voters to be made available;
7. PwD Electors to be informed in advance about polling stations where facility of booking for wheel chair is available;
8. Dummy ballot papers in Braille for visually impaired voters tobe prepared.
Registration Procedure
Please enter the below details,
1. Enter Mobile No
2. Enter Email Id
3. Click on the next button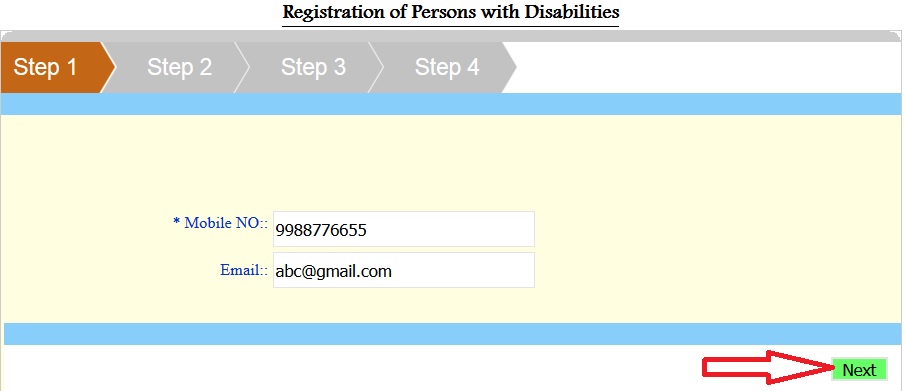 FAQs
1. Whether a Minister can combine his official visit with electioneering work?
No. The Ministers shall not combine their official visit with electioneering work and shall not also make use of official machinery or personnel during the electioneering work.
2. Whether Govt. transport can be used for electioneering work?
No. No transport including official air-crafts, vehicles etc. shall be used for furtherance of the interest of any party or a candidate.
3. Whether Govt. can make transfers and postings of officials who are related to election work?
There shall be a total ban on the transfer and posting of all officers/officials directly or indirectly connected with the conduct of the election. If any transfer or posting of an officer is considered necessary, prior approval of the Commission shall be obtained.
4. Suppose an officer related to election work has been transferred by the Govt. before enforcement of model code of conduct and has not taken over charge at new place. Can such officer take over charge of office at new place after announcement of the code?
No. Status-quo-ante shall be maintained.
5. Whether a Minister of Union or State can summon any election related officer of the constituency or the State for any official discussion during the period of elections?
No Minister, whether of Union or State, can summon any election related officer of the constituency or the State for any official discussions anywhere.
If Union Minister is traveling out of Delhi on purely official business, which cannot be avoided in public interest, then a letter certifying to this effect should be sent from the concerned Secretary of the Ministry/Department to the Chief Secretary of the concerned State, with a copy to the Election Commission.