nvsp.in Online Registration of Voter ID Card Form 6 : National Voter's Service Portal
Organisation : National Voter's Service Portal
Facility : Apply Online for Registration of New User Form-6
Applicable For : All India
Home Page : https://www.nvsp.in/
NVSP Form-6 Online Registration
Follow the below procedure to file Form 6. Form 6 is used for Inclusion of Name in Electoral Roll for First time Voter OR on Shifting from One Constituency to Another Constituency.
Related / Similar Service :
NVSP Apply Online for Objection on Inclusion of Name Form 7
Who can file Form-6?
A. An Indian citizen who has attained age of 18 years or more on the first day of January of the year with reference to which the electoral roll is being revised.
B. A person shifting his / her place of ordinary residence outside the constituency in which he / she is already registered.
When Form-6 can be filed?
The application can be filed throughout the year. During the revision of electoral roll, it can be filed after draft publication of electoral roll of the constituency. The application is to be filed within the specific period.

Only one copy of the application is to be filed during the revision programme. During non-revision period, application must be filed in duplicate.
This video is step by step guide to Apply Online for Registration of New User Form-6 :
Where to file Form-6?
A. During revision period, the application can be filed at the designated locations where the draft electoral roll is displayed as well as the offices of Electoral Registration Officer and Assistant Electoral Registration Officer of the constituency.
The application can also be filed online on the website of Chief Electoral Officer of the State concerned.
B. When revision programme is not going on, the application can be filed only with the Electoral Registration Officer or can be filed online.
How to Fill?
Logon to the NVSP website and Click on the Apply online for registration of new voter link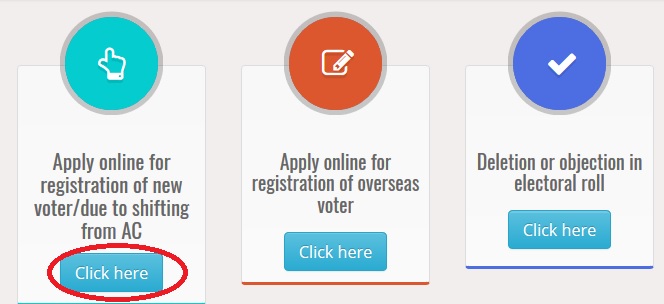 Follow the simple steps to complete your registration. Before you are applying first Select your Language
Step 1 : Select State *
Step 2 : Select District
Step 3 : Select Assembly/Parliamentary Constituency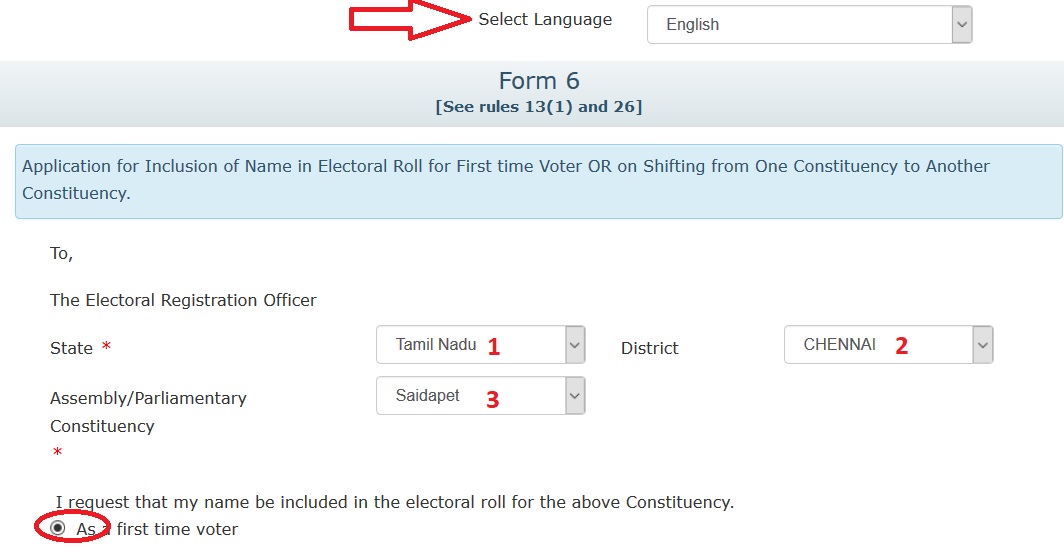 Step 4 : Enter Mandatory Particulars
Step 4.1 : Enter Name *
Step 4.2 : Enter Surname (If any)
Step 4.3 : Enter Name of Relative of Applicant *
Step 4.4 : Enter Surname of Relative of Applicant
Step 4.5 : Enter Type of Relation *
Step 4.6 : Enter Age [as on 1st January of current calendar year] * Or
(f)Date of Birth (in DD/MM/YYYY format)(if known) *
Step 4.7 : Select Gender of Applicant *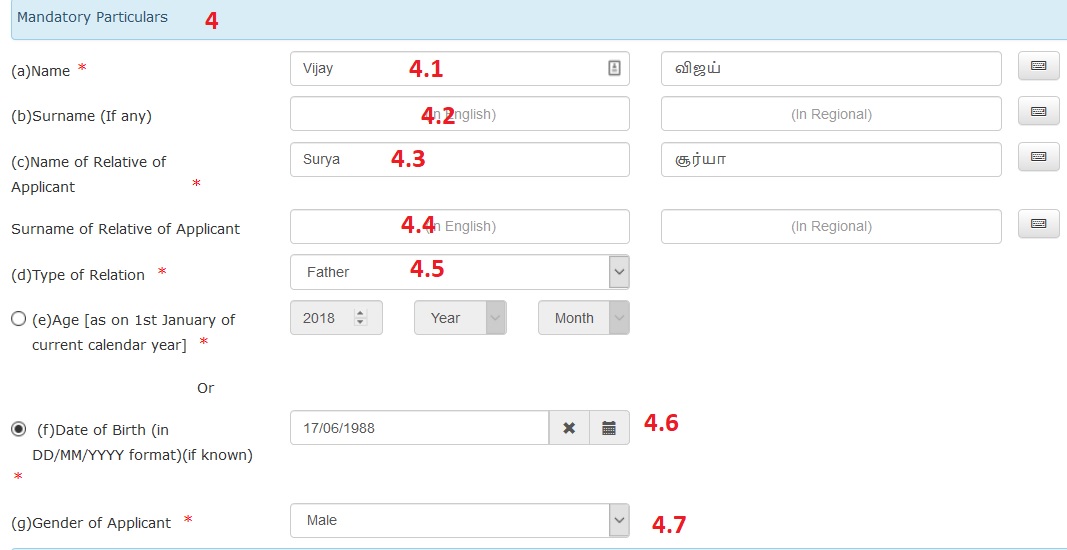 Step 5 : Enter Current address where applicant is ordinarily resident
Step 5.1 : Enter House No & House Name
Step 5.2 : Enter Street/Area/Locality *
Step 5.3 : Enter Town/Village *
Step 5.4 : Enter Post Office *
Step 5.5 : Enter Pin Code *
Step 5.6 : Select State/UT *
Step 5.7 : Select District *. Click Permanent address of applicant same as Current Address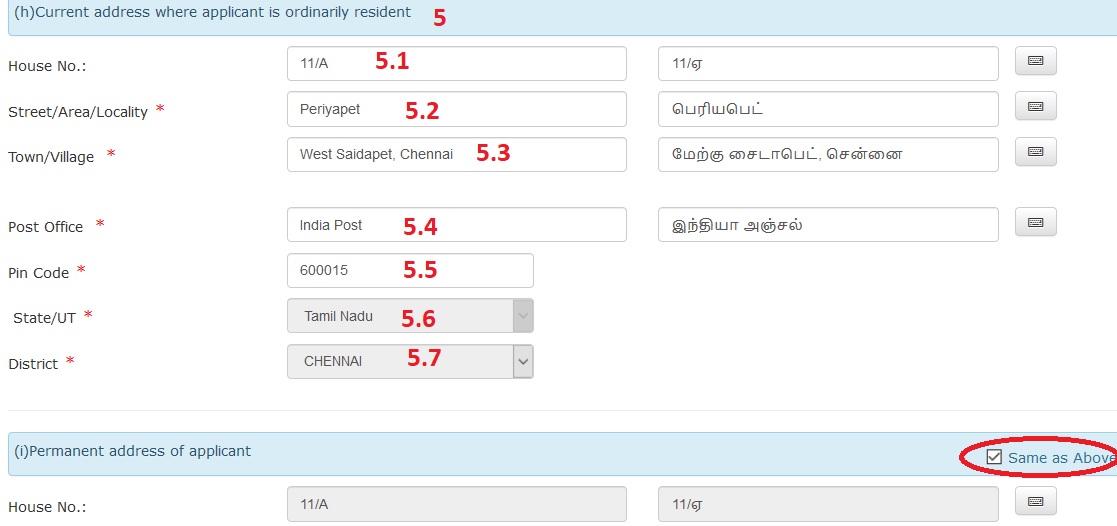 Step 6 : Enter Family/Neighbour Epic No
Optional Particulars :
Disability (if any)(k) (Tick appropriate box)
i. Visual impairment
ii. Speech & hearing disability
iii. Locomotor disability
iv. Other
Step 7 : Enter Email id (optional)
Step 8 : Enter Mobile No. (optional)
Step 9 : Upload Supporting Document
Step 10 : Enter Town/Village
Step 11 : Select State *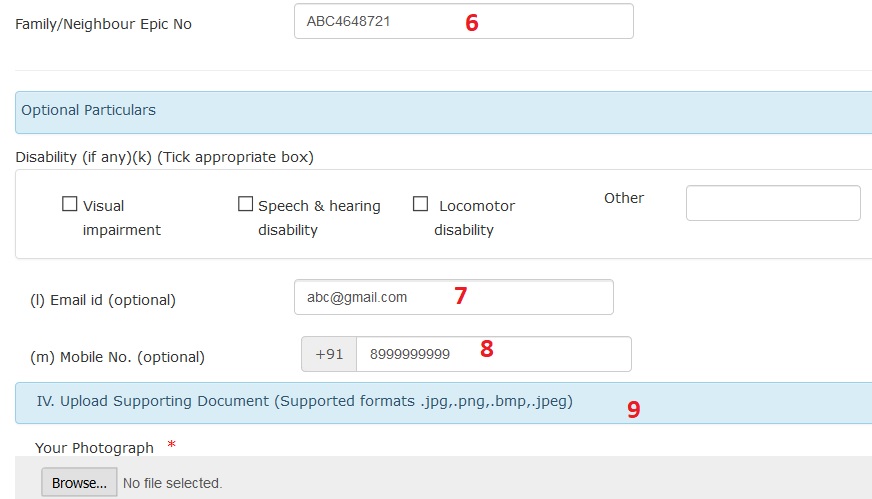 Step 12 : Select District *
Step 13 : I am ordinarily resident at the address given at (h) above since Date *
Step 14 : Enter Place
Step 15 : Enter Date
Step 16 : Click Submit button