ceo.maharashtra.gov.in Draft Electoral Roll 2019
Organisation : Maharashtra Chief Electoral Officer Office (ceo.maharashtra.gov.in)
Facility : Draft Electoral Roll 2019
Applicable State : Maharashtra
Home Page : https://ceo.maharashtra.gov.in/SearchList/
You can now ask your questions about this election.
Please go to the bottom of this page.
CEO Maharashtra Draft Electoral Roll
Summary Revision 2019 – Draft Electoral Roll (Partwise)
Related : CEO Maharashtra Search your Name in Final Electoral Roll 2019 : www.electionin.in/5812.html
How to Check?
Just follow the below steps to check your Draft Partwise Electoral Roll 2019.
Steps :
Step 1 : Go to the official website of CEO Maharashtra through the URL http://ceo.maharashtra.gov.in/Defaultc.aspx
Step 2 : Then click on the "Summary Revision 2019 – Draft Electoral Roll (Partwise)" link in the home page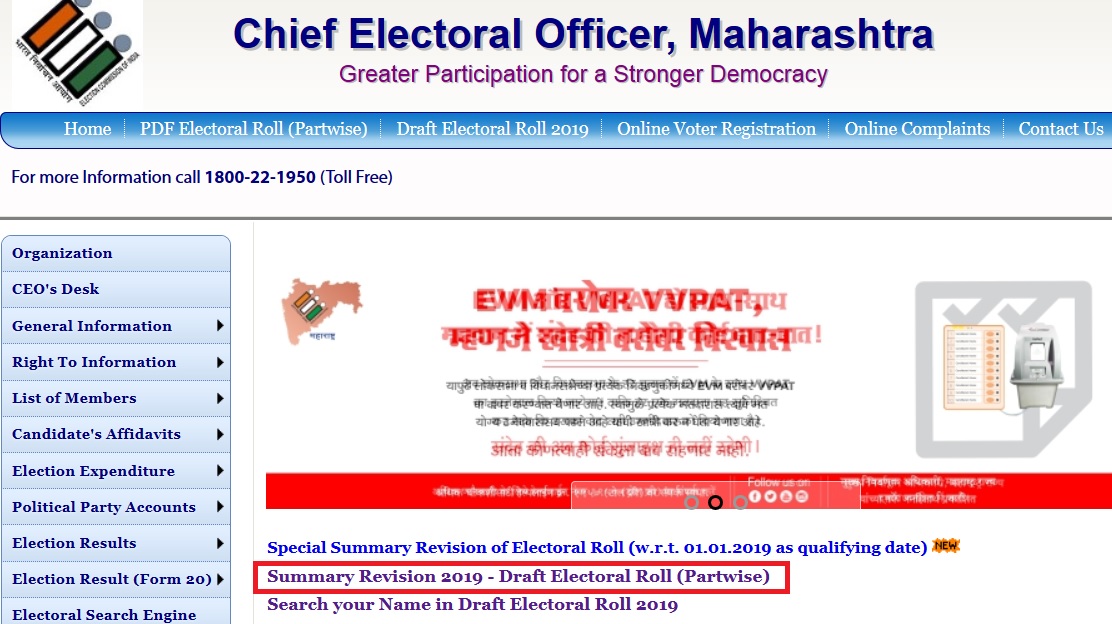 Step 3 : Select Your District [Aurangabad]
Step 4 : Select Your Assembly Constituency [106-Pholambari]
Step 5 : Select Your Part [2- Lalavan]
Step 6 : Enter the captcha code as shown in the image.
Step 7 : Finally click on "Open PDF" button

Step 8 : The Electoral Roll will be displayed in a PDF format.
FAQs
1. How can I get registered/enrolled in the Electoral Roll?
Ans. You have to submit a filled in Form – 6 to the ERO of the Assembly Constituency.
2. What is the procedure to make corrections in such names / other details that have been misspelt in the Electoral Roll?
Ans. For incorporation of corrections in the Electoral Rolls, You have to submit Form – 8 to the ERO of the Assembly Constituency. Following are the various forms useful for registration as voter, corrections, change in address etc.
** For inclusion of names Form 6
** For any objection on inclusion of names Form 7
** For correction of entries in the Electoral Rolls Form 8
** For transposition of entry in electoral roll Form 8A
3. I have shifted my residence recently. How do I ensure that I am enrolled in my new place of residence and my name is deleted from the old place?
Ans. In case the new residence is in the same constituency please fill Form 8A otherwise form 6 and submit to the ERO (SDM) or the AERO of the area of your new residence.
4. Can one be enrolled at more than one place?
No. A person cannot be enrolled as a voter in more than one place in the same constituency or in more than one constituency in view of the provisions contained under Sec. 17 and 18 of R. P. Act, 1950
5. Where will be the notice of hearing sent by Electoral Registration Officer?
The Electoral Registration Officer will send notice at the address of applicant in the country of his current residence, as informed by him and it will be considered as due service of notice to the applicant.
6. Where the postal address of the Electoral Registration Officers can be obtained from?
Postal addresses of all Electoral Registration Officers are available on the website of Election Commission of India / Chief Electoral Officers of respective State / Union Territory (link to which has been provided on the Election Commission of India website).
7. If I apply on line, whether I need to send to the Electoral Registration Officer's address, signed copy of the Form 6 along with required documents.
As soon as the Electoral Registration Officer / Assistant Electoral Registration Officer receives Form 6 filed on line, he downloads the form along with enclosure and deputes Booth Level Officer to visit your residence to verify and obtain your original signature on the application form