NVSP Application for Issue of Replacement Elector's Photo Identity Card EPIC Form 001 : National Voter's Service Portal
Organisation : National Voter's Service Portal NVSP
Facility : Application for Issue of Replacement Elector's Photo Identity Card (EPIC) Form 001
Applicable For : All India
Home Page : http://nvsp.in/index.html
You can now ask your questions about this election.
Please go to the bottom of this page.
NVSP Issue of Replacement EPIC
Replacement EPIC is normally issued when the original card is lost/destroyed/multilated.
Related / Similar Facility :
NVSP Apply Online for Transposition of Entry in Electoral Roll
How to Apply?
Just follow the below steps to apply for Issue of Replacement Elector's Photo Identity Card (EPIC).
Steps :
Step 1 : Visit the official website of NVSP through provided above.
Step 2 : Next in NVSP portal, click "Application for Issue of Replacement Elector's Photo Identity Card (EPIC)" link.


Step 3 : Fill the application with the following details,
** Select Your State * [Tamil Nadu]
** Select Your District [Chennai]
** Select Your Assembly/ Parliamentary Constituency * [Saidapet]

Step 4 : Then fill your Personal Mandatory Particulars details
Step 4.1 : Enter Name * [Vijay]
Step 4.2 : Enter Surname (If any)
Step 4.3 : Enter Name of Relative of Applicant * [Surya]
Step 4.4 : Enter Surname of Relative of Applicant

Step 4.5 : Enter Type of Relation * [Father]
Step 4.6 : Enter Age [as on 1st January of current calendar year] * Or
(f)Date of Birth (in DD/MM/YYYY format)(if known) *
Step 4.7 : Select Gender of Applicant * [Male/Female]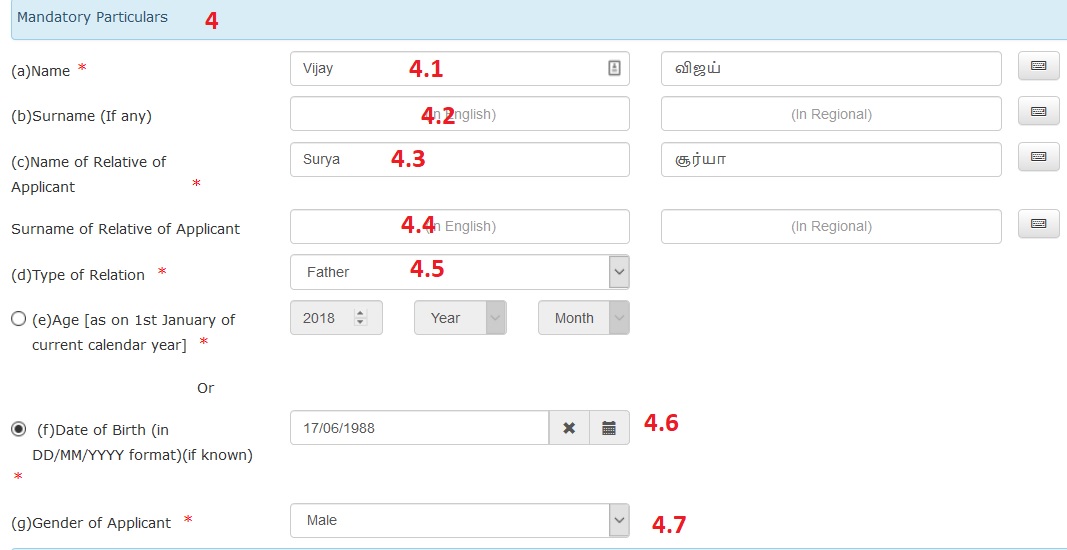 Step 5 : Enter Current address where applicant is ordinarily resident
Step 5.1 : Enter House No & House Name [11A]
Step 5.2 : Enter Street/Area/Locality * [Periyapet]
Step 5.3 : Enter Town/Village * [West Saidapet, Chennai]

Step 5.4 : Enter Post Office * [India Post]
Step 5.5 : Enter Pin Code * [600015]
Step 5.6 : Select State/UT * [Tamil Nadu]
Step 5.7 : Select District *. Click Permanent address of applicant same as Current Address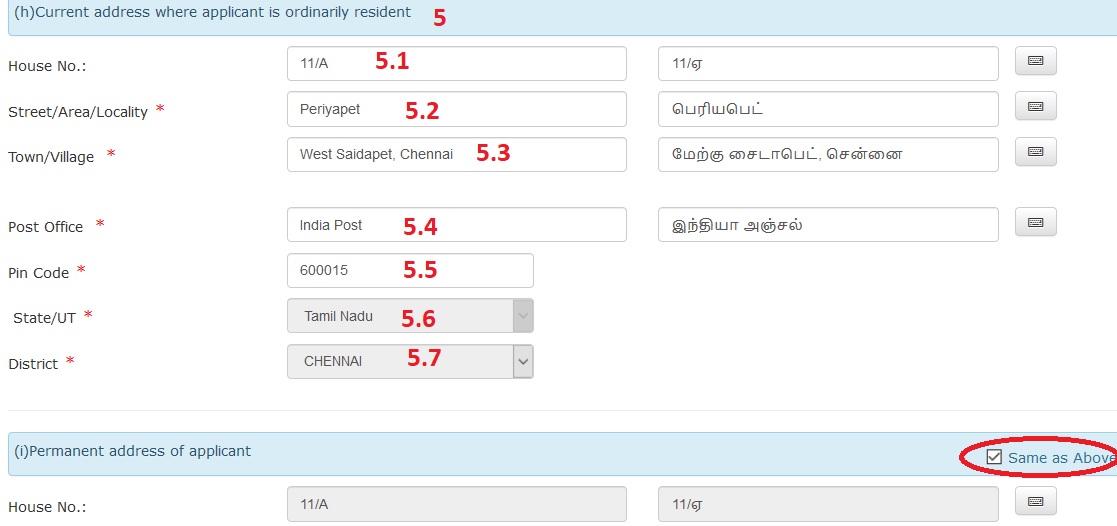 Step 6 : Enter Your EPIC Card details like EPIC No, Reason for applying for a Duplicate Card and where to collect the card. etc..


Step 7 : Finally enter the place & date and click on "Submit" button

FAQs
1. I have shifted my residence recently. I have Electors Photo Identity Card (EPIC) with the old address. Can I get new EPIC for the present address?
First of all, you have to ensure that you are enrolled in the electoral roll of the concerned Assembly Constituency in which your new address is located.
Though, it is not necessary to get your new address changed in EPIC, however, if you want to change address in EPIC, that can be done by making an application with a charge of Rs. 25 to Electoral Registration Officer of the new constituency.
The Electoral Registration Officer will issue an EPIC with new address though the number of EPIC will be the same as that of the old EPIC.
2. My EPIC has some errors. What is the procedure to have a new EPIC with correct particulars?
You can make an application in Form 8 for rectification of the errors in your EPIC. The Electoral Registration Officer will issue a new EPIC, with the same number, after making the necessary corrections.
3. I have lost my old EPIC. How can I get a new EPIC ?
A replacement EPIC can be issued to an elector on payment of a fee of Rs. 25, along with a copy of the complaint lodged with the Police amount the loss of EPIC. However, no fee will be charged if the EPIC has been lost for reason beyond the control of the elector like flood, fire, other natural disaster etc.