ceodelhi.gov.in Know Your Voters' Centre VREC : CEO Delhi
Organisation : CEO Delhi
Facility : Know Your Voters' Centre VREC
Applicable State/UTs : Delhi
Website : https://www.ceodelhi.gov.in/OnlineErms/NewContactPage.aspx
You can now ask your questions about this election.
Please go to the bottom of this page.
CEO Delhi Know Your VREC
Kindly follow the below steps to know your VREC Centre.
Related / Similar Service :
CEO Delhi LEAD Learning on Electoral Awareness & Democracy
How to Check VREC?
Steps :
Step 1 : Visit the official website of CEO Delhi through the URL https://ceodelhi.gov.in/Home.aspx.
Step 2 : Then click on the "Know Your Voters' Centre VREC" link in the home page.


Step 3 : After that you can find your Location of Voter Center.
Step 4 : You can also view your Voter Centre Location on Map.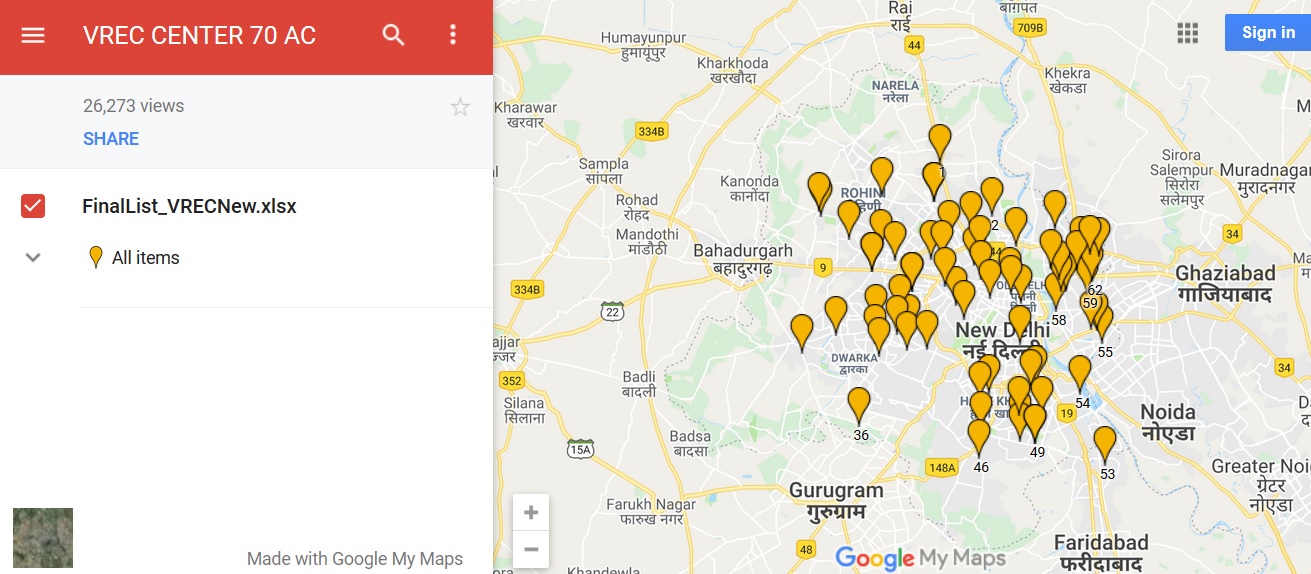 AERO's Of Delhi
Voter center's public service time 10:00 am to 1:00 pm (Monday to Saturday)
| | | | | |
| --- | --- | --- | --- | --- |
| Ac Name | AERO Name | Location of Voter Center | Mobile Number | Email-ID |
| Nerela | Smt. NIRMAL KUMARI | BDO Office Complex, Alipur, Delhi- 110036 | 9711730864 | aero1[dot]delhi[at]nic[dot]in |
| Burari | Sh. Manikant Tiwari | Delhi Jal Board Office, Near Transport Authority , Sant Nagar, Burari, DElhi | 9899154411 | vrec2[at]yahoo[dot]com |
| Timarpur | Sh. Padam Singh | Old Super Bazar Building, Delhi Admn. Flats, Timarpur, Delhi-110054. | 9871832183 | vrec3[at]yahoo[dot]co[dot]in |
| Adarsh Nagar | Sh. Sunil Shanwal | FSO Office Circle-62, Ground Floor, Night Shelter, Sarai Peepal Thala, Delhi – 110033 | 9958944636 | vrec04[at]gmail[dot]com |
| Badli | Sh. Jasbir Singh | Near Shiv Chowk , Badli Village , Block-A, Sector -19, Rohini, Delhi-110042 | 9818550173 | aero5[dot]delhi[at]nic[dot]in |
| Rithala | Sh. Anand Dabas | Multipurpose Community Centre, Prehlad Pur Banger, Delhi – 110042 | 9873707052 | aero6[dot]delhi[at]nic[dot]in |
| Bawana | Sh. Digvijay Singh | PWD Inquiry Office , Opposite NDPL, Main Bawana Chowk, Bawana , Delhi-110039 | 9968310131 | aero7[dot]delhi[at]nic[dot]in |
| Mundka | Sh.Pretam Singh | Community Centre, Kanjhawala Chowk, Kaajhawala, Delhi – 110081 | 9910520801 | aero8[dot]delhi[at]nic[dot]in |
| Kirari | Sh. Dinesh Kr. Sachdeva | Multi Purpose Community Center (MPCC), Village Mubarak Pur Dabas, Near Bus Terminal, Delhi – 110086 | 9958527108 | aero9[dot]delhi[at]nic[dot]in |
| Sultanpur Majra | Smt. Saveena Dabas | Shivaji Sports Complex, JJ & Slum, C-Block, Sultan Puri, New DTC Terminal, Delhi – 110086 | 9643914381 | aero10[dot]delhi[at]nic[dot]in |
| Nangloi Jat | Mrs. Kamla Devi | Patwar Ghar, Najafgarh Road, Delhi -110041 | 9868920340 | aero11[dot]delhi[at]nic[dot]in |
| Mangol Puri | Sh. Krishan Kumar | Community Hall, A-Block, Kalamandir Cinema Road Mangolpuri, Delhi – 110083 | 9868830662 | aero12[dot]delhi[at]nic[dot]in |
| Rohini | Sh. Ashwani Kumar Kapoor | Admn. Block, Old Fire Station Building, Badli, Industrial Area, near Sector-18 Rohini Delhi – 110042 | 9899542060 | aero13[dot]delhi[at]nic[dot]in |
| Shalimar Bagh | Sh. Dharam Veer Madan | Recreation Centre, U&V Block, Shalimar Bagh, Delhi – 110088 | 9868945652 | ac14aero[at]gmail[dot]com |
| Shakur Basti | Sh. DEEPAK KUMAR | Voter Center, Sant Nagar Road, Rani Bagh, Delhi | 8448301477 | vrec15[at]gmail[dot]com |
| Tri Nagar | Sh. Suresh Kumar | Voter Center, MCD Community Centre, K-Block, Shakur Pur, Delhi | 8527269078 | vrec16[at]yahoo[dot]co[dot]in |
| Wazirpur | Sh.Sombir Singh | Community Centre Labour Welfare Centre, Nimri Colony, Delhi – 110052 | 9971471969 | vrec17[at]yahoo[dot]in |
| Model Town | Sh.Arun Kumar | Arya Bhatt Polytechnic, Near Shakti Nagar Telephone Exchange, G.T.Karnal Road, Delhi – 110033 | 9899301295 | vrec18[at]yahoo[dot]in |
| Sadar Bazar | Sh. Vijay Pal Singh | 7, Kalidas Marg, Gulabi Bagh, Delhi- 110007 | 8802463363 | aero19[dot]delhi[at]nic[dot]in |
| Chandni Chowk | Sh. Parvesh Kumar | Sarai Phoos, DDA Colony, Tis Hazari, Delhi – 110006 | 9910371656 | aero20[dot]delhi[at]nic[dot]in |
| Matia Mahal | Sh. Ved Prakash | MC Primary School Building, Shankar Gali, Asif Ali Road, Near Police Bhawan Delhi – 110006 | 9910236133 | aero21[dot]delhi[at]nic[dot]in |
| Ballimaran | Sh.Ravi Kumar | AC-22, BALLIMARAN, VOTER CENTRE, NEAR BSES OFFICE, SLUM & JJ Centre, Lahori Gate, Delhi -110006 | 9868772299 | aero22[dot]delhi[at]nic[dot]in |
| Karol Bagh | Sh. A K Meena | Tibbia College, Ajmal Khan Road, Karol Bagh, New Delhi – 110005 | 9811539463 | erokb23[at]gmail[dot]com |
| Patel Nagar | Sh.P.W.TAPRE | Block-B, Community Centre, New Ranjeet Nagar, New Delhi – 110008 | 9868750878 | eropn24[at]gmail[dot]com |
| Moti Nagar | Mrs. Ajitha S. Panicker | Room No.14 &15, F Block, Labour Office, Karam Pura, Delhi – 110015 | 9718676966 | aero25[dot]delhi[at]nic[dot]in |
| Madipur | Sh. Rajinder Kumar Pardesi | Community Centre, Old Slum Quarters, Madipur, New Delhi – 110063 | 9716866786 | aero26[dot]delhi[at]nic[dot]in |
| Rajouri Garden | Sh.Jagdev | Basti Vikas Kendra, Baba Ramdev Road, No.29, HMP Colony, Raghubir Nagar, New Delhi – 110027 | 9911680852 | aero27[dot]delhi[at]nic[dot]in |
| Hari Nagar | Sh. Vijay Kumar | Flat No.14A, DA – Block, Hari Nagar, New Delhi –110064 | 8860292881 | aero28[dot]delhi[at]nic[dot]in |
| Tilak Nagar | Sh. Rakesh Kumar | Multipurpose Community Centre, Block-12, Tilak Nagar, New Delhi – 110018 | 7290957488 | aero29[dot]delhi[at]nic[dot]in |
| Janakpuri | Ms. Neeru | " TRUSS ", MCD Works Store, C-2B, Janak Puri , New Delhi – 110058 | 8527685730 | aero30[dot]delhi[at]nic[dot]in |
| Vikaspuri | Kaberi Mukherjee | VIKASPURI, Block -KG-1, Vikas Puri , Delhi – 11 | 9910897773 | aero31[dot]delhi[at]nic[dot]in |
| Uttam Nagar | Kartar Singh Khenchi | MPCC Development Department Building Bindapur Uttam Nagar-59 | 8506851612 | aero32[dot]delhi[at]nic[dot]in |
| Dwarka | Sh Dinesh | Community Centre/Chaupal, H-Block, Harijan Basti, Sagarpur, New Delhi – 110046 | 9711788231 | aero33[dot]delhi[at]nic[dot]in |
| Matiala | Sh. Purshotam Yadav | MCD Barat Ghar/Community Centre, Kakrola Housing Complex, Old Palam Road, New Delhi – 110078 | 9868821283 | aeroac34sw[at]yahoo[dot]com |
| Najafgarh | Naresh Kumar Yadav | Room No-8, BDO Office Complex Najafgarh, New Delhi-110043. | 9711437110 | aeroac35sw[at]yahoo[dot]com |
| Bijwasan | Dinesh Kumar Sharma | Main Hall, Animal Husbandry Hospital, Bijwasan, New Delhi – 110077 | 9899992900 | aeroac36sw[at]yahoo[dot]com |
| Palam | Jessy Kutty John | Community Center, J.J. Colony, Mahavir Vihar, Sector-1, Dwarka. | 9868644901 | aeroac37sw[at]yahoo[dot]com |
| Delhi Cantt | Smt. Revamma P C | Ground Floor, Employment Exchange Building, Kirbi Place, New Delhi – 110010 | 9868326868 | aerodelhicantt38[at]gmail[dot]com |
| Rajinder Nagar | Sh.Daljeet Singh | Opposite ITI Hostel Mess, Near Food & Supply Office, Pusa, New Delhi – 110012 | 9811619495 | ac39rajindernagar[at]gmail[dot]com |
| New Delhi | Sh.RAJBIR SINGH PANWAR | 13/2, Jam Nagar House, Near UPSC, New Delhi – 110011 | 9968285078 | aeroac40[at]yahoo[dot]com |
| Jangpura | RAJ KUMAR UPPAL | Jal Vihar FSO Office complex Latpat Nagar II, New Delhi – 110024 | 9811965464 | ac41aero[at]gmail[dot]com |
| Kasturba Nagar | Vikrant Mahalwal | Block-C, Opp. F-15 Block, Lajpat Nagar III, New Delhi – 110024 | 9910000701 | aeroac42[at]yahoo[dot]com |
| Malviya Nagar | Sh. Satish Kumar Tanwar | Humaupur Barat Ghar, Opp. Chota Gurudwara Safderjung Enclave,Krishna Nagar, | 9810674062 | malviyanagaraero[at]yahoo[dot]in |
| R K Puram | Smt. NEELAM MALIK | MCD Community Centre, Near Market, Sector-3, R.K.Puram, New Delhi – 110022 | 9968177129 | aero_ac44[at]yahoo[dot]in |
| Mehrauli | Sh. Kamaljeet Singh Talwar | Vocational Training Center, Near Qutub Minar Bus Stand, Mehrauli, New Delhi – 110030 | 9868179199 | aero45[dot]delhi[at]nic[dot]in |
| Chhatarpur | Praveen Kumar | Old DESU Building, Near Dena Bank, Chhatarpur, New Delhi-110074 | 9818533577 | aero46[dot]delhi[at]nic[dot]in |
| Deoli | Sh. Ram Prasad Meena | Old Police Chowki, Sector -4, Pushp Vihar New Delhi-110017 | 9868385216 | aero47[dot]delhi[at]nic[dot]in |
| Ambedkar Nagar | Sh.Anil Verma | Community Centre, RPS Colony, Khanpur, Opp.DTC Bus Depot, New Delhi – 110062 | 8860086975 | aero48[dot]delhi[at]nic[dot]in |
| Sangam Vihar | Radhey Shyam Meena | 37, Institutional Area , Tuglakabad , New Delhi – 110062 (SDM Office Kalkaji) | 9868423617 | ac49sv[at]gmail[dot]com |
| Greater Kailash | Sh.MANOJ KUMAR | Jal Board work centre, Chiragh Delhi, New Delhi- 110017 | 9810279142 | aero50gk[at]gmail[dot]com |
| Kalkaji | Lakshman Singh | Dr. Hedgewarkar Old Aged Centre, B Block, Near Deshbandhu College, Kalkaji, New Delhi- 110019 | 9910250990 | aero51[dot]delhi[at]nic[dot]in |
| Tughlakabad | VIRENDER KUMAR | 37, Institutional Area , Tuglakabad, New Delhi – 110062 (SDM Office Kalkaji) Basement | 8586874933 | aero52[dot]delhi[at]nic[dot]in |
| Badarpur | Hari Dasan K. | Multi Purpose Community Centre, Meethapur Village, New Delhi – 110044 | 8860470961 | aero53[dot]delhi[at]nic[dot]in |
| Okhla | RAJESH VIJ | Office fo the Assistant Warden, Animal Husbandry & Fisheries Department, Okhla, New Delhi – 110025 | 9810864460 | vrecokhla[at]gmail[dot]com |
| Trilokpuri | Ashok Sharma | Bal Vikas Kendra J. J. Slum Building, Block-2, Trilokpuri, Delhi – 110091 | 9911070238 | aeroac55[at]yahoo[dot]com |
| Kondli | NARENDER KUMAR | Multipurpose Community Centre Kalyan Puri, Delhi – 110091 | 9868615801 | aeroac56[at]yahoo[dot]in |
| Patparganj | Brijesh Tayal | Fire Station Building, Mandawali. Delhi – 110092 | 9871806969 | aeroac57[at]yahoo[dot]in |
| Laxmi Nagar | SATISH TYAGI | District Magistrate Office Complex, B-Block, L.M. Bund, Shastri Nagara, Delhi-110031 | 8800701388 | aeroac58[at]yahoo[dot]com |
| Vishwas Nagar | Diwakar | UTCS Building, Vishwas Nagar, Shahdara, Delhi – 110032 | 9911483800 | aeroac59[at]yahoo[dot]com |
| Krishna Nagar | SH. AJAY KUMAR | Community Center, Rani Gardan | 9818068642 | aeroac60[at]yahoo[dot]com |
| Gandhi Nagar | Shashi Kiran | Community Centre, Mini Stadium Rajeev Gandhi Park, Rajgarh Colony, Delhi – 110031 | 9810118012 | aeroac61[at]yahoo[dot]in |
| Shahdara | Madhu Juneja | Near Community Centre, Jhilmil Colony, Delhi – 110095 | 9818236570 | aeroac62[at]gmail[dot]com |
| Seema Puri | Rakesh Kumar Pandey | DC Office Complex, Nand Nagri, Delhi – 110093 | 9868467455 | aeroac63[at]gmail[dot]com |
| Rohtas Nagar | Anil Kumar Garg | Community Centre, Near LIG Flat, Ashok Nagar, Delhi | 9560171957 | aeroac64[at]gmail[dot]com |
| Seelampur | Susheel Bharti | Office of the SDM (Seelampur) Complex, Delhi – 110053 | 7982906390 | aero65[dot]delhi[at]nic[dot]in, |
| Ghonda | Sh.Raj Singh | Community Centre, X- Block, Brahampuri, Delhi – 110053 | 930911568 | aero66[dot]delhi[at]nic[dot]in, |
| Babarpur | Tarun Kumar | Balbir Nagar Loni Road Opposite Arawachin Public School Shahdara , Delhi – 110032 | 9873555477 | ac67babarpur1[at]gmail[dot]com |
| Gokalpur | Sh.Satender Kumar | A-3, Community Centre, Nand Nagri, Delhi – 110093 | 9999669193 | ac68aero[at]gmail[dot]com |
| Mustafabad | Abha Singh | Panchyat Ghar Village Sadatpur, Delhi – 110094 | 9990552526 | aero69[dot]delhi[at]nic[dot]in |
| Karawal Nagar | Ratan Singh | Village Biharipur, Near Pushpanjali School Opposite Delhi Police Training School, Delhi – 110094 | 7503540129 | aero70[dot]delhi[at]nic[dot]in, |