eci.nic.in / electoralsearch.in National Electoral Search : Election Commission of India
Name of the Organisation : Election Commission of India
Type of Facility : National Electoral Search
Website: http://electoralsearch.in/
You can now ask your questions about this election.
Please go to the bottom of this page.
NVSP National Electoral Search
Election Commission of India has launched a major initiative of Electoral Roll Search at National level. Using this service you can find information related to polling stations in nation-wide electoral rolls.
Related / Similar Service :
ECI Feed Your Aadhaar Number
Andaman & Nicobar Islands, Andhra Pradesh, Arunachal Pradesh, Bihar, Chandigarh, Chhattisgarh, Dadra & Nagar Haveli, Daman and Diu, Delhi, Goa, Gujarat, Haryana, Himachal Pradesh, Jammu and Kashmir, Jharkhand, Karnataka, Kerala, Lakshadweep, Madhya Pradesh, Maharashtra, Manipur, Meghalaya, Mizoram, Nagaland, Odisha, Puducherry, Punjab, Rajasthan, Sikkim, Tripura, Uttar Pradesh, Uttarakhand and West Bengal.
How To Search?

To search your name in Electoral Roll, Just follow the simple steps given below
Steps :
Step-1: First go to the link "http://electoralsearch.in/"
Step-2 : Select your searching option (i.e) Search by Details (or) Search by EPIC Number
Search by Details
Please enter the following details,
Step 1 : Enter Your Name * [Hari]
Step 2 : Enter Your Father's/Husband's Name [Raj]
Step 3 : Select Your Age/ DOB [ie. 30]
Step 4 : Select Your Gender [Male/Female]
Step 5 : Select Your State [Tamil Nadu]
Step 6 : Select Your District [Chennai]
Step 7 : Select the Assembly Constituency [Perambur]
Step 8 : Enter the Captcha Code
Step 9 : Click Search button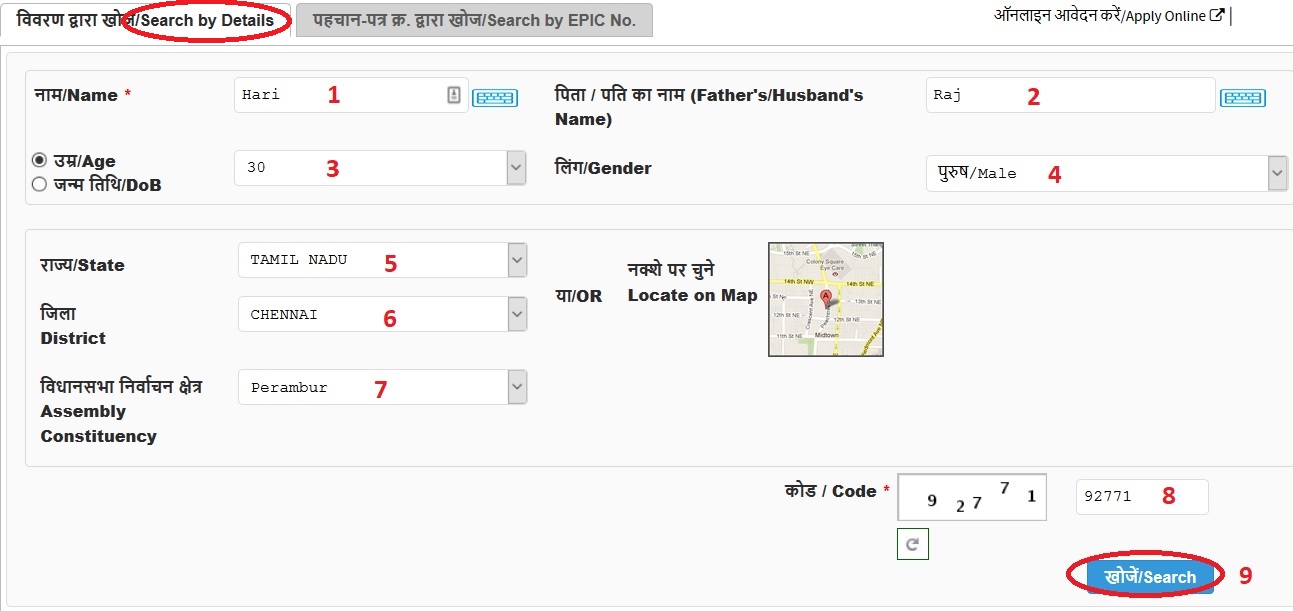 Search by EPIC No
Step 1 : Enter your EPIC No. * [654116]
Step 2 : Select Your State [Tamil Nadu]
Step 3 : Enter Capcha Code
Step 4 : Click Search button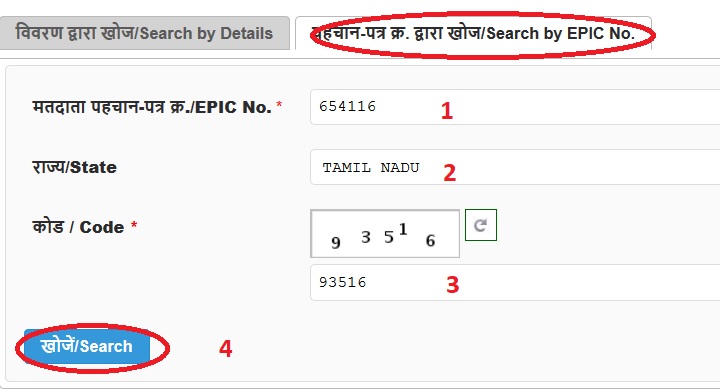 Services
The service can be accessed in any of the following methods.
1. Internet users can access the information by following National Electoral Search link provided on the official website of the Election Commission of India (eci.gov.in).
2. Android Users can install an application from the Mobile Seva AppStore of the Government (apps.mgov.gov.in under electoral category).
3. Mobile users can use SMS service by sending a pre-formatted SMS to the predefined numbers.
3.1 This service is available on a special three digit code 166 provided for BSNL, Idea, MTNL, Tata Docomo, Tata Indicom and Vodafone users.
3.2 A special five digit code 51969 is provided for accessing the service by operators such as Aircel, Airtel, BSNL, Idea, MTS, Reliance, Tata Docomo, Tata Indicom, Uninor, Videocon and Vodafone.
3.3 A user can access this service by sending SMS to a 10-digit number 09223166166.
In order to access this service through SMS, User must send a pre-formatted SMS with a word "ECI" followed by details such as name, name of father/husband, locality, age or date of birth and gender separated by commas. For example, an SMS "ECI Prabhat Singla" would fetch the details of a user "Prabhat Singla" from electoral rolls.