DMK Youth Wing Membership Card Online, Ilaignar Ani : dmkyouthwing.in
Party: Dravida Munnetra Kazhagam (DMK) Youth Wing, DMK Ilaignar Ani
State : Tamil Nadu
Facility : Apply For Online Membership
Register Now : http://www.dmkyouthwing.in/
You can now ask your questions about this election.
Please go to the bottom of this page.
DMK Youth Wing Membership
DMK is always waiting for young like-minded individuals to spearhead its mission. If you believe in secularism, equality, self respect and rationality, we at DMK welcome you with open arms.
Related / Similar Facility : DMK Party Online Membership Form Tamil Nadu
How to Register?
Just follow the below steps to apply for DMK Youth Wing Online Membership.
Steps :
Step 1 : Visit the official website of DMK Youth Wing through provided above.
Step 2 : Click on the "Apply" link in the home page.


Step 3 : Fill the registration form with the following details,
** Select Your Language *
** Enter Your Name *
** Enter Your Date Of Birth*
** Enter Your Parent's Name *
** Select Your Identity Card *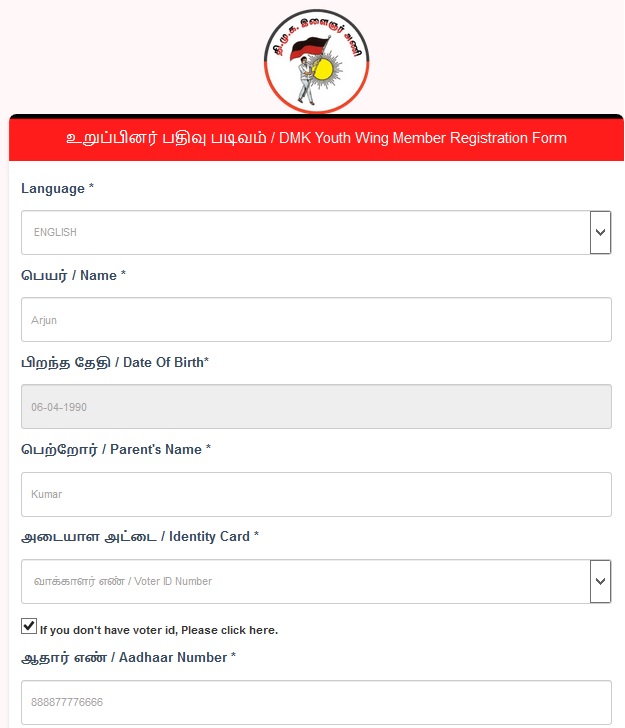 ** If you don't have voter id, Please Enter Your Aadhaar Number
** Enter Your Voter ID Number*
** Enter Your E-Mail ID
** Enter Your Mobile No *
** Enter Your Educational Qualification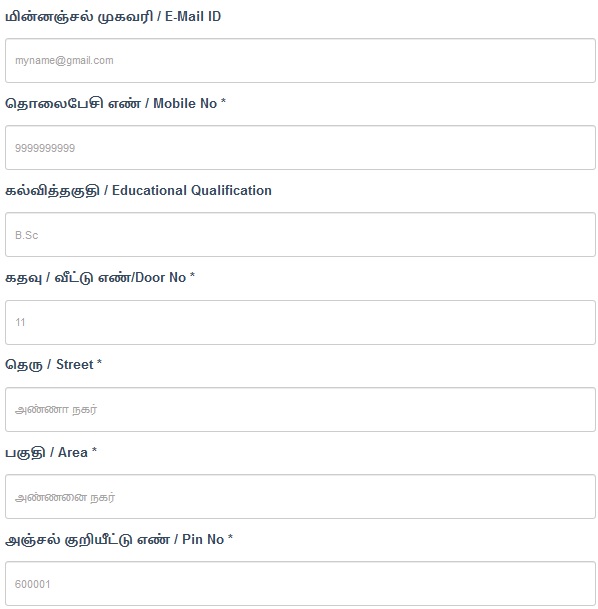 ** Enter Your Door No *
** Enter Your Street *
** Enter Your Area *
** Enter Your Pin No *
** Select Your District *
** Select Your Constituency *
Step 4 : Finally click on "Register" button

DMK Youth Wing
Stalin forms the DMK youth wing Ilaignar Ani in 1982 Stalin becomes DMK youth wing secretary, a post he held for more than four decades.
Udhayanidhi Started his political life as Secretary of Youth Wing in Dravida Munnetra Kazhagam on July 4th 2019. Before, he started his Political life he Started Campaigning all over Tamil Nadu in 2019 Lok sabha Elections for the Dravida Munnetra Kazhagam and its alliance parties.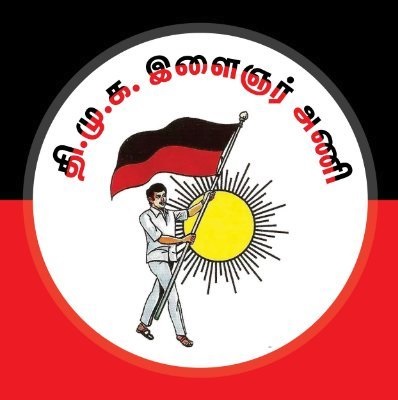 About DMK :
In order to safeguard the interests of Dravidians, Arignar Anna established the DMK party on 17th September 1949. Anna's DMK was viewed as the guardian of the Tamil language and its culture.
The party was named after the English Journal, 'Justice' published by the society of the same name ahead of the formation of the party. The core objective of the party was to protect the interest of the Dravidians in the state.
Dr. Kalaignar Karunanidhi Achievements
Under the leadership of Dr. Kalaignar, Tamil Nadu has achieved new feats across various sectors. A number of welfare schemes made their debut during the DMK regime.
Some of the notable ones that have become all time favorite of Tamils are as follows:
** Slum rehabilitation projects
** Beggars, leprosy patients rehab homes
** Shelter for the orphans in temples
** Free eye camps under 'Kannoli Thittam'
** Free provisions for the poor during festivals
** Free electricity for farmers
** Separate departments for adi dravidar and Backward classes
** The first ever constitution of Police commission for the welfare of police
** Electricity and lighting for every village in Tamil Nadu
** Residential Plots for farmers
** Nationalization of Bus services
** Security for Government servants
** Abolition of red tape and secrecy
** Abolition of hand rickshaws and distribution of cycle rickshaws
** Rehab program for physically challenged
** Property rights for women
** Free education for girls
** Marriage assistance for poor women
** Thirty percent reservation for women in government jobs
** Pension scheme for freedom fighters
** Establishment of new universities
** Free bus passes for students
** Free homes for Scheduled tribes
** Twenty percent reservation for most backward classes
** State planning commission
Contact Us :
Dravida Munnetra Kazhagam,
# 367-369, "Anna Arivalayam",
Teynampet, Chennai – 600 018.
Tamilnadu – India.