ceomeghalaya.nic.in Apply Online Voter ID Card Form 6 : CEO Meghalaya
Name of the Organisation : CEO Meghalaya
Type of Facility : Apply Online Voter ID Card
Home Page : http://ceomeghalaya.nic.in/
CEO Meghalaya Apply Voter ID Card
The applicant should have completed 18 years of age as on 1st January of the year.
Related / Similar Service :
CEO Meghalaya Apply Online For Form 7
Who can file Form-6
A. An Indian citizen who has attained age of 18 years or more on the first day of January of the year with reference to which the electoral roll is being revised.
B. A person shifting his / her place of ordinary residence outside the constituency in which he / she is already registered.
When Form-6 can be filed
The application can be filed throughout the year. During the revision of electoral roll, it can be filed after draft publication of electoral roll of the constituency. The application is to be filed within the specific period.
Only one copy of the application is to be filed during the revision programme. During non-revision period, application must be filed in duplicate.
Where to file Form-6
A. During revision period, the application can be filed at the designated locations where the draft electoral roll is displayed as well as the offices of Electoral Registration Officer and Assistant Electoral Registration Officer of the constituency.
The application can also be filed online on the website of Chief Electoral Officer of the State concerned.
B. When revision programme is not going on, the application can be filed only with the Electoral Registration Officer or can be filed online.
How to Fill?
Visit the official website provided above and select "Online Sevices/NVSP" link in the home page. It will redirect to the NVSP portal.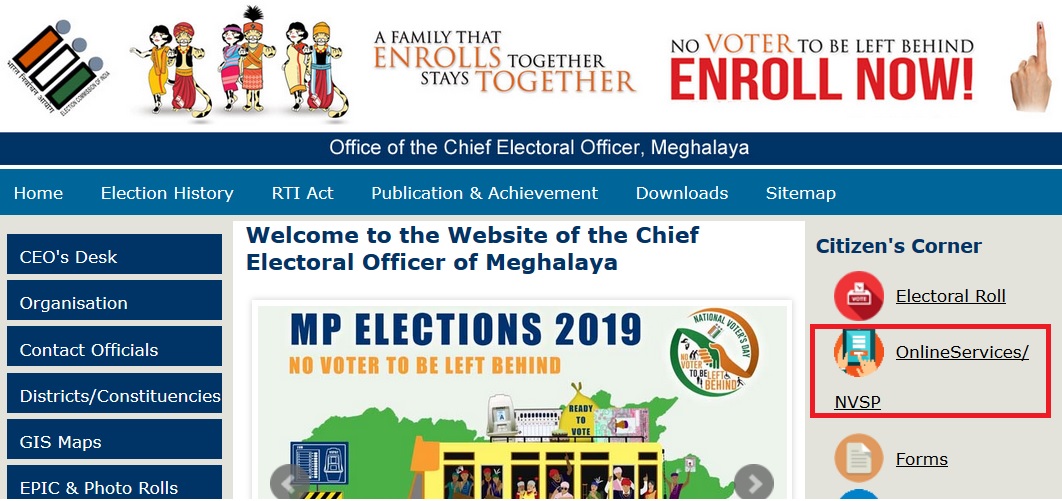 Logon to the NVSP website and Click on the Apply online for registration of new voter link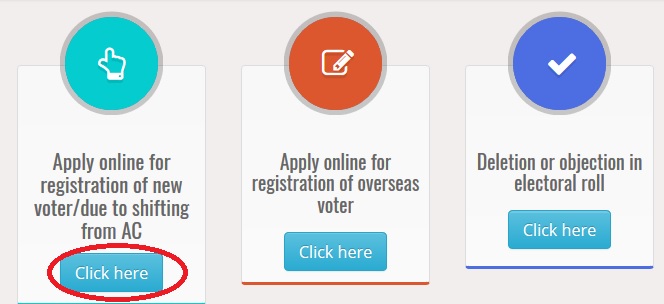 Fill the required details to complete the application form.
FAQs
Q 1. For every constituency, there is a list of voters which is called electoral roll. What is the minimum age for enrollment in an electoral roll?
Ans. Eighteen
For every constituency, there is a voters list Article 326 of the Constitution, and Sec. 19 of R. P. Act, 1950 stipulate that the minimum age for registration of a voter is 18 years.
Q 2. Can a non-citizen of India become a voter?
Ans. No
A person who is not a citizen of India cannot be registered as a voter. Article 326 of the Constitution read with Sec. 16 of R. P. Act, 1950 clarify the point.
Q 3. Can a non-resident Indian citizen become a voter?
Ans. According to Section 19 of the R. P. Act, 1950, only a person who is ordinarily resident in a constituency is entitled to be registered in the electoral roll of that constituency. However, such of the non-resident Indian Citizens who are employed under Govt. of India in a post outside India are eligible to be registered as voters in terms of Sec 20 (8) (d) read with Sec 20 (3) of the R. P. Act, 1950.
Q 4. If I am working and living in Delhi, can I be a voter in my native village?
Ans. No
If you are working in Delhi and residing there, you are an ordinary resident of Delhi in terms of Sec 19 (b). Therefore you can be enrolled at Delhi only and not in your native village.
Q 5. Can one be enrolled at more than one place?
Ans. No
A person cannot be enrolled as a voter in more than one place in the same constituency or in more than one constituency in view of the provisions contained under Sec. 17 and 18 of R. P. Act, 1950.