affidavit.eci.gov.in Candidate Management System : Election Commission of India
Organisation : Election Commission of India (ECI)
Service Name : Candidate Affidavit Management
Applicable For : Party Candidates
Applicable States/UTs : All Over India
Website : https://affidavit.eci.gov.in/
You can now ask your questions about this election.
Please go to the bottom of this page.
ECI Candidate Affidavit
Election Commission of India (ECI), Candidate Affidavit Management System
Related / Similar Post : ECI National Grievances Service

How To Check Status?
To check the status of Affidavit, just follow the simple steps mentioned below.
Steps:
Step-1 : Go to the link https://affidavit.eci.gov.in/
Step-2 : Select Election
Step-3 : Select Election Type
Step-4 : Select State
Step-5 : Select Constituency
Step-6 : Click on "Filter' button.

Sample:
Rejected:
Party Name: Lok Jan Shakti Party
Name: SHIVENDER MISHRA
Assembly constituency: SHALIMAR BAGH
State: NCT OF Delhi
Application Uploaded: 21st January, 2020
Current status: Rejected
Accepted:
Party Name:
Aam Aadmi Party
Name: SAHIRAM
Assembly constituency: TUGHLAKABAD
State: NCT OF Delhi
Application Uploaded: 17th January, 2020
Current status: Accepted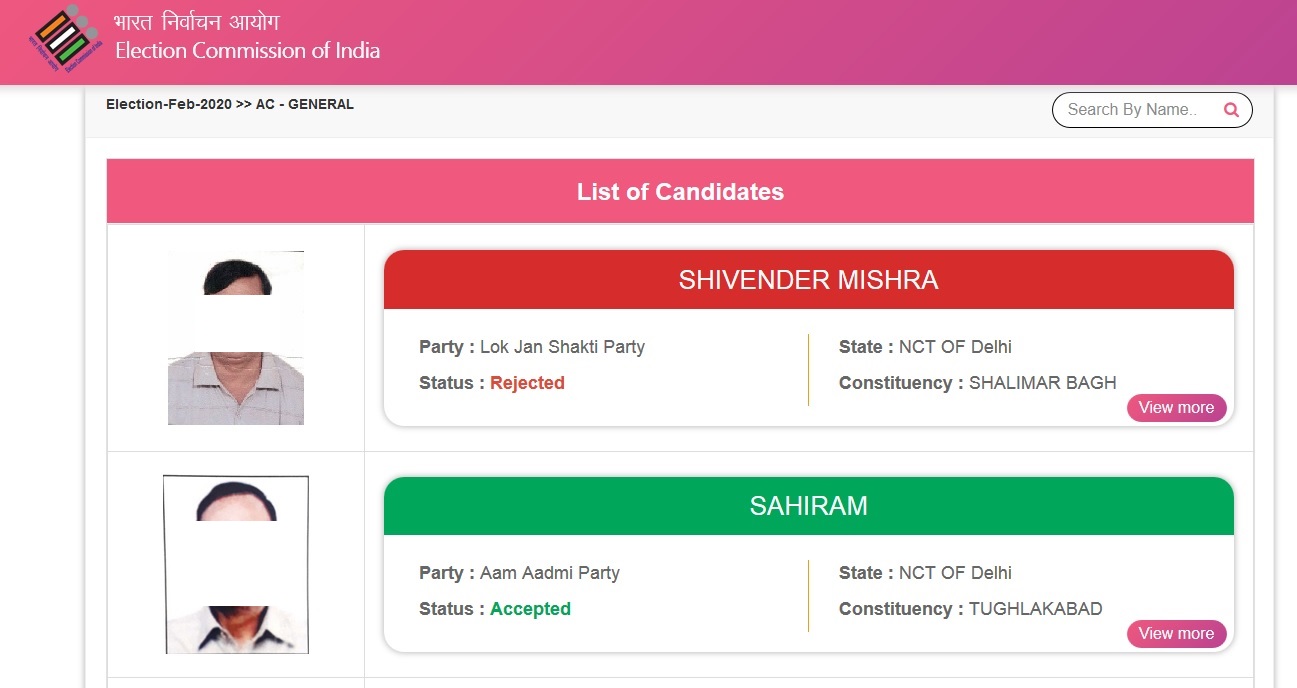 Disclaimer:
This is Computer generated report. The data is published dynamically based upon the current updated data by the returning officer, which is subject to change and is purely tentative. To get the confirmed list, kindly, contact the respective returning officer.
About ECI
India is a Socialist, Secular, Democratic Republic and the largest democracy in the World. The modern Indian nation state came into existence on 15th of August 1947. Since then free and fair elections have been held at regular intervals as per the principles enshrined in the Constitution, Electoral Laws and System.
The Constitution of India has vested in the Election Commission of India the superintendence, direction and control of the entire process for conduct of elections to Parliament and Legislature of every State and to the offices of President and Vice-President of India.
Election Commission of India is a permanent Constitutional Body. The Election Commission was established in accordance with the Constitution on 25th January 1950. The Commission celebrated its Golden Jubilee in 2001.
Originally the commission had only a Chief Election Commissioner. It currently consists of Chief Election Commissioner and two Election Commissioners.
For the first time two additional Commissioners were appointed on 16th October 1989 but they had a very short tenure till 1st January 1990. Later, on 1st October 1993 two additional Election Commissioners were appointed. The concept of multi-member Commission has been in operation since then, with decision making power by majority vote.
The Commission has a separate Secretariat at New Delhi, consisting of about 300 officials, in a hierarchical set up.