ECI BLO Net Mobile App : Election Commission of India
Organisation : Election Commission of India (ECI)
Service Name : BLO Net Mobile App
Website : https://eci.gov.in/it-applications/mobile-applications/blo-net-mobile-app-r9/
You can now ask your questions about this election.
Please go to the bottom of this page.
ECI BLO Net Mobile App
Booth Level officers used to verify and collect details of electors and probable electors through visiting each and every elector and collecting their papers for any kind of services required by them.
Related / Similar Service : ECI Counting Application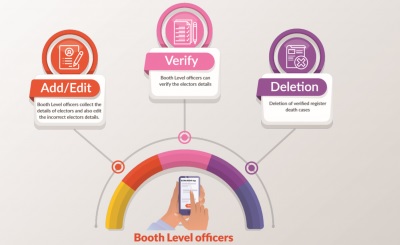 There are more than a million BLOs across the country. As no online system or mobile App was present, BLOs had to submit all their documents to the ERO office for further processing. This was not only tedious and labour intensive but also delayed the process of form processing.
A need was felt to bring such a service that could collect the digital data at their doorstep. A mobile app BLO-Net was launched to connect all the BLOs to the ERO office which also eliminated the need of digitization of supporting documents.
BLO-Net is a mobile app designed specially for Booth level Officers to provide online processing mechanism for claims, objections and enrollment received online/ offline. BLO-Net offers a rich interface to the BLOs where BLOs can verify the elector details, upload documents and provide their remarks for further processing of the forms.
Election Commission of India provided an application to Booth Level Officer (BLO) to verify each elector's entry, correct the errors and enable deletion of verified register death cases under the EVP program. It helps to avoid data entry, which often causes mistakes. Moreover it saves a large amount of paperwork thereby bringing economies of time and cost.
Features
Download Electoral List:
This feature allows BLO to download Elector's list from this tab. This will be saved in the phone memory.
Verification of Electoral Detail:
** My EVP Dashboard
** Verification of data furnished
** Collection and verification of data
** Verification of polling station
Collections and Verification of Data:
** Electoral verification
** Family tagging verification
Download App
Download BLO Net Mobile App Here :
https://apps.mgov.gov.in/descp.do?appid=1458&param=app
Outcome
With the launch of BLO Net app, the verification and form submission has been simplified and BLO can directly perform all his duties from the app.
About ECI:
The Election Commission of India is an autonomous constitutional authority responsible for administering election processes in India. The body administers elections to the Lok Sabha, Rajya Sabha, State Legislative Assemblies in India, and the offices of the President and Vice President in the country. The Election Commission operates under the authority of Constitution per Article 324, and subsequently enacted Representation of the People Act.