ceojk.nic.in Final Panchayat Electoral Roll 2018 : CEO Jammu & Kashmir
Organisation : Chief Electoral Officer Jammu & Kashmir
Announcement : Final Panchayat Electoral Roll 2018
Applicable State : Jammu & Kashmir
Website : http://ceojk.nic.in/panchayater/
You can now ask your questions about this election.
Please go to the bottom of this page.
CEO JK Final Panchayat Electoral Roll
Kindly follow the below steps to check the Final Panchayat Electoral Roll 2018.
Related: CEO JK SMS Based Monitoring System : www.electionin.in/5736.html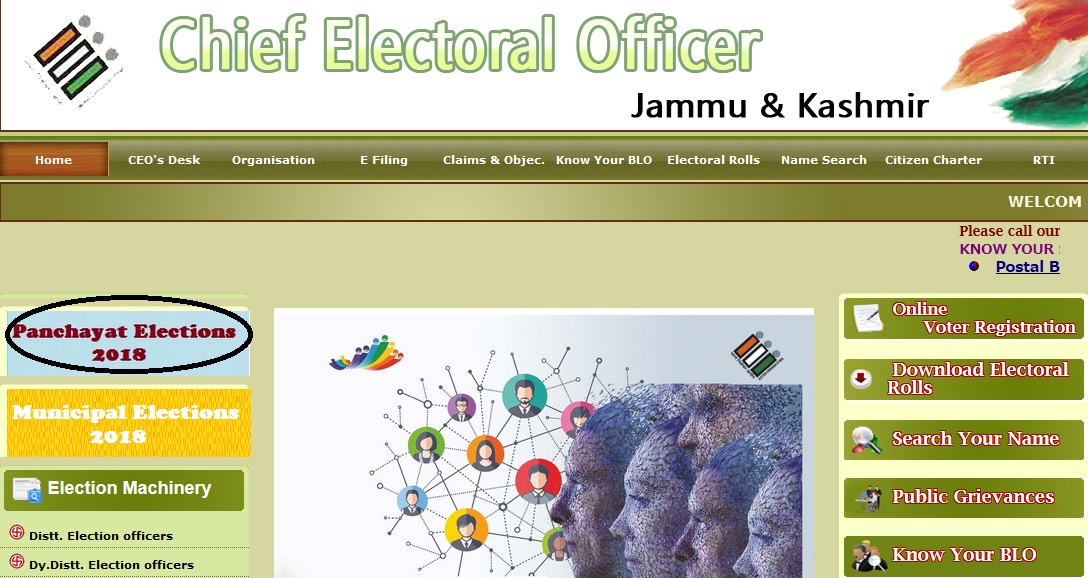 Steps :
Go to the official website of CEO Jammu & Kashmir through provided above and enter the following details,
** Select District Name
** Select Block Name
** Select Gram Panchayat Name
** Select Panch Const
** Enter Verification Code
** Click Show Button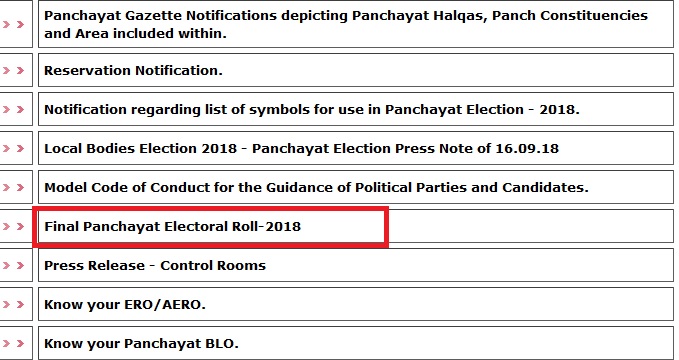 Electoral Rolls FAQs
For every constituency, there is a list of voters which is called electoral roll. What is the minimum age for enrolment in an electoral roll?
Eighteen
For every constituency, there is a voters list Article 326 of the Constitution, and Sec. 19 of R. P. Act, 1950 stipulate that the minimum age for registration of a voter is 18 years.
Was 18 the minimum voting age in India from the beginning?
No
Earlier, the age for registration of a voter was 21 years. Through the 61st amendment Act, 1988 of the Constitution read with Act 21 of 1989 amending the R. P. Act, 1950, the minimum age of registration of a voter has been brought down to 18 years. This has been made effective from 28th March, 1989.
Which is the relevant date for determining the age qualification of 18 years? Suppose, you have completed 18 years of age today. Can you get yourself registered as voter ?
According to Section 14 (b) of the R. P. Act, 1950, the qualifying date means the first day of January of the year in which the electoral roll is prepared or revised.
When was the voting age reduced from 21 years to 18 years ?
1989
The voting age was reduced from 21 years to 18 years during 1989.
Can a non-citizen of India become a voter?
No
A person who is not a citizen of India cannot be registered as a voter. Article 326 of the Constitution read with Sec. 16 of R. P. Act, 1950 clarify the point.
Can a non-resident Indian citizen become a voter?
According to Section 19 of the R. P. Act, 1950, only a person who is ordinarily resident in a constituency is entitled to be registered in the electoral roll of that constituency.
However, such of the non-resident Indian Citizens who are employed under Govt. of India in a post outside India are eligible to be registered as voters in terms of Sec 20 (8) (d) read with Sec 20 (3) of the R. P. Act, 1950.
If I am working and living in Jammu, can I be a voter in my native village?
No
If you are working in Jammu and residing there, you are an ordinary resident of Jammu in terms of Sec 19 (b). Therefore you can be enrolled at Jammu only and not in your native village.
Can one be enrolled at more than one place ?
No
A person cannot be enrolled as a voter in more than one place in the same constituency or in more than one constituency in view of the provisions contained under Sec. 17 and 18 of R. P. Act, 1950.
E-Filing Instructions
1. Open the page ceojk.nic.in
2. Click the "Online Registration" link on the home page
3. Fill up the online form
4. Upload one passport size colour photograph in the space mentioned in the Form (Read instructions regarding photograph on page 2)
5. The photograph file type should be JPEG/JPG and it should be within 20 KB. This is mandatory.
6. Also upload additional (supporting) documents in PDF format.
7. Also fill up your mobile phone number. This is mandatory.
8. Once you click the 'submit' button, you will receive an SMS containing a verification code on the same mobile number
9. Fill in the verification code received by SMS on your mobile in the text box provided.
10. Print a copy of the registration form and receipt and keep these handy.
11. The Booth Level Officer (BLO) who will come to your residence to verify the information and will collect documents from you.
12. Please keep these documents ready:
a) Proof of your residence (such as driving license, bank pass book, any postal letter received in your name on your address etc.
b) In case you are a student residing in a Hostel of your University/ Institute or elsewhere (e.g. PG) Etc., then please get a Declaration in the proforma at Annexure One.
c) Proof of your age, such as birth certificate, school leaving certificate etc. However this is only required if you are between 18 and 21 years age.
NOTE: Alternatively, you can send signed copy of the application form along with the aforesaid documents to your ERO/ Booth Level Officer.