Nav Bharat Democratic Party Online Membership Karnataka
Party : Nav bharat Democratic Party
Service/Facility Name : Online Membership
State : Karnataka
Current Leader : Anil Shetty
Website : http://nav-bharat.org/
You can now ask your questions about this election.
Please go to the bottom of this page.
Nav Bharat Democratic Party is a new generation party which is committed to socially progressive, economically developed and efficiently governed India.
Related : Janata Dal Secular Karnataka Join Online : www.electionin.in/242.html
Membership Conditions
An Indian Citizen who wants to become a member of the party shall fulfill the following conditions
1. Should be of minimum 18 years of age
2. Should not be a member of any other political party and should agree to abide by the rules of the party

3. Should submit for approval an application in a format prescribed by The Party along with the self attested proof of identity & address
Categories of Membership
The party will have two categories of memberships :
1. Life Members
2. Primary Members
Membership Fees
1. Life Members will pay a onetime membership fee as prescribed and the membership shall be valid for a period of 10 years
2. Primary members will pay a membership fee as prescribed and the membership shall be valid for a period of 3 years.
Membership Form
1. To fill the Membership Form visit the official website and click the Membership link in the Menu bar.

2. Become a member by filling the form below
Step 1 : Enter your First Name [Ashwath]
Step 2 : Enter your Last Name [Raj]
Step 3 : Enter your Address [1A, Sri ML Subbaraju Rd, Shanthala Nagar, Sampangi Rama Nagar, Bengaluru, Karnataka]
Step 4 : Enter your Pin code [560001]
Step 5 : Enter your Gender [Male/ Female/ Others]
Step 6 : Upload your Photo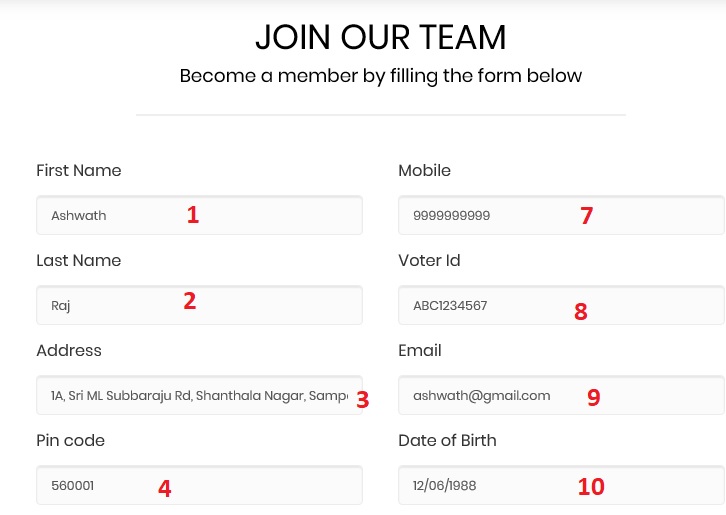 Step 7 : Enter your Mobile Number [9999999999]
Step 8 : Enter your Voter Id [ABC1234567]
Step 9 : Enter your Email [ashwath@gmail.com]
Step 10 : Enter your Date of Birth [mm/dd/yyyy]
Step 11 : Enter your City/Town [Bengaluru]
Step 12 : Accept the membership terms & conditions
Step 13 : Click Submit button
Namma Leader
** Namma Leader, a citizen helpline number to connect local Leaders and citizens.
** Citizens can call up Namma Leader and seek her/his help in solving civic issues.
** Namma Leader will help resolve issues concerning BBMP, BESCOM, BWSSB, Police Department, BDA and other Govt departments.
** Namma Leader will add power to citizens Voice.
** Number – 080 33506060
About the Party :
Politics, to Nav Bharat is an opportunity to serve. The party will identify and hold capable and committed leaders of our society to be our elected representatives. Taking the first step towards "NagaraSwaraj" (Urban Self Governance).

Our cities are failing. From everyday traffic to water shortage to waste disposal to lack of adequate infrastructure, we are faced with innumerable problems that are becoming increasingly difficult to resolve. Quality of life is reduced and public apathy is at its peak. This is mainly due to lack of political will and vision.