CEO Karnataka Legislative Assembly General Election : May 12th 2018
Organisation : Chief Electoral Officer, Karnataka
Announcement : Karnataka Legislative Assembly General Election 2018
Applicable State : Karnataka
Election Date : May 12th, 2018
Home Page : http://ceokarnataka.kar.nic.in/
You can now ask your questions about this election.
Please go to the bottom of this page.
CEO Karnataka General Election
Schedule for the General Election to the Legislative Assembly of Karnataka, 2018.
Update : Karnataka General Election Result 2018 : www.electionin.in/6473.html
The term of the Legislative Assembly of Karnataka is normally due to expire on 28.05.2018.

Election Schedule
1. Date of Issue of Gazette Notification – 17.04.2018 (TUE)
2. Last Date of Nominations – 24.04.2018 (TUE)
3. Date for Scrutiny of Nominations – 25.04.2018 (WED)
4. Last Date for Withdrawal of candidatures – 27.04.2018 (FRI)
5. Date of Poll – 12.05.2018 (SAT)
6. Date of Counting – 15.05.2018 (TUE)
7. Date before which election shall be completed – 18.05.2018 (FRI)
Assembly Constituencies
The total number of Assembly Constituencies in the State of Karnataka and seats reserved for the Scheduled Castes and the Scheduled Tribes, as determined by the Delimitation of Parliamentary and Assembly Constituencies Order, 2008, are as under
| | | | |
| --- | --- | --- | --- |
|  State | Total No. of ACs | Reserved for SCs | Reserved for STs |
| Karnataka | 224 | 36 | 15 |
Electoral Rolls
Special efforts were made to identify the critical gaps in the electoral rolls and targeted SVEEP activities were carried out to address them.

The existing electoral rolls of all the Assemblies Constituencies in the State of Karnataka have been revised, with reference to 01.01.2018 as the qualifying date. Final publication of electoral rolls in respect of Karnataka has been done on 28.02.2018.
As per the final electoral roll, the number of electors in the State is as follows
State

Total No. of electors as per draft electoral rolls

Total No. of electors as per final electoral rolls

Karnataka
4,90,06,901

(Approx. 4.90 Cr.)

4,96,82,357

(Approx. 4.968 Cr.)
Photo Electoral Rolls :
Photo Electoral Rolls will be used during this General Election and photo percentage in Photo Electoral Rolls of this State is 99.47 %.
Notification :
https://www.electionin.in/uploads/pdf2018/6410-Notification.pdf
Electors Photo Identity Cards (EPIC) :
Identification of the voters at the polling booth at the time of poll shall be mandatory. Electors who have been provided with EPIC shall be identified through EPIC. Presently, the EPIC coverage in Karnataka is 97.46 %.
Polling Stations & Special Facilitation
The number of Polling Stations of Karnataka are as follows
State
No. of Polling

Stations in 2013

No. of Polling

Stations in 2018

% Increase
Karnataka
52,034
56,696
9%
Contesting Candidates List
To know the List of Contesting Candidates in the Karnataka Legislative Assembly General Election 2018 follow the below steps,
Step 1 : Visit the official website of Chief Electoral Officer, Karnataka through the URL http://ceokarnatakatemp.kar.nic.in/ceo2/hm_ec.aspx#
Step 2 : Then Click 'List of Contesting Candidates' link in the home page.

Step 3 : Next Select your District Name.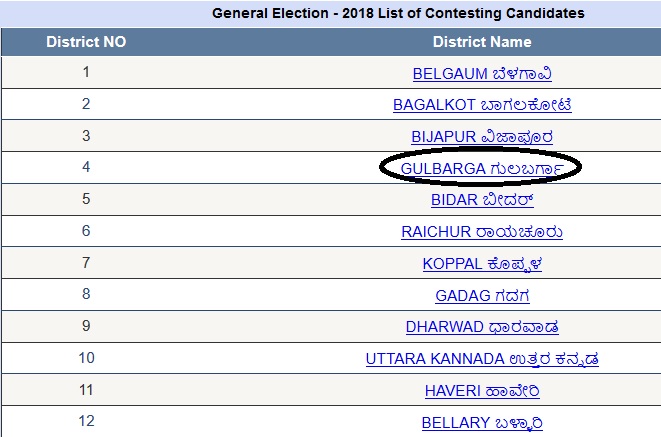 Step 4 : After that Select your AC Name and AC No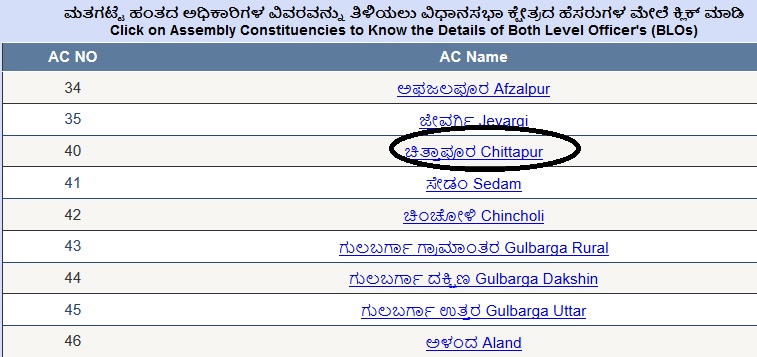 Step 5 : Finally the candidates details will be displayed in a PDF Format.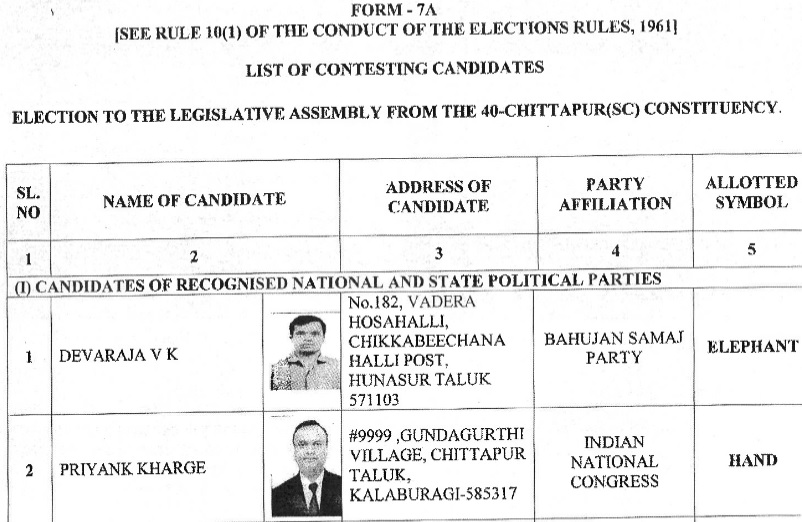 FAQs
1. How can I get registered/enrolled in the Electoral Roll?
You have to submit a filled in Form – 6 to the ERO of the Assembly Constituency.
2. I have shifted my residence recently. How do I ensure that I am enrolled in my new place of residence and my name is deleted from the old place?
In case the new residence is in the same constituency please fill Form 8A;otherwise form 6,and submit to the ERO or the AERO of the area of your new residence.
3. Can a non-citizen of India become a voter?
No. A person who is not a citizen of India cannot be registered as a voter. Article 326 of the Constitution read with Sec. 16 of R. P. Act, 1950 clarify the point.