ceoorissa.nic.in Special Summary Electoral Roll Revision 2019 : CEO Odisha
Organisation : CEO Odisha
Facility Name : Special Summary Electoral Roll Revision 2019
Applicable State : Odisha
Website : http://ceoorissa.nic.in/
You can now ask your questions about this election.
Please go to the bottom of this page.
CEO Odisha Special Summary Electoral Roll Revision
Form 9 (Addition List), 10 (Deletion List),11 Correction List, 11ATransposition List) of Summary Revision 2019
Related / Similar Post : ceoorissa.nic.in Find Your Name
How to Check?
Just follow the below steps to check the Special Summary Electoral Roll Revision 2019.
Steps :
Step 1 : Go to the official website of CEO Odisha through provided above
Step 2 : Then click on the "Revision of Electoral Roll" link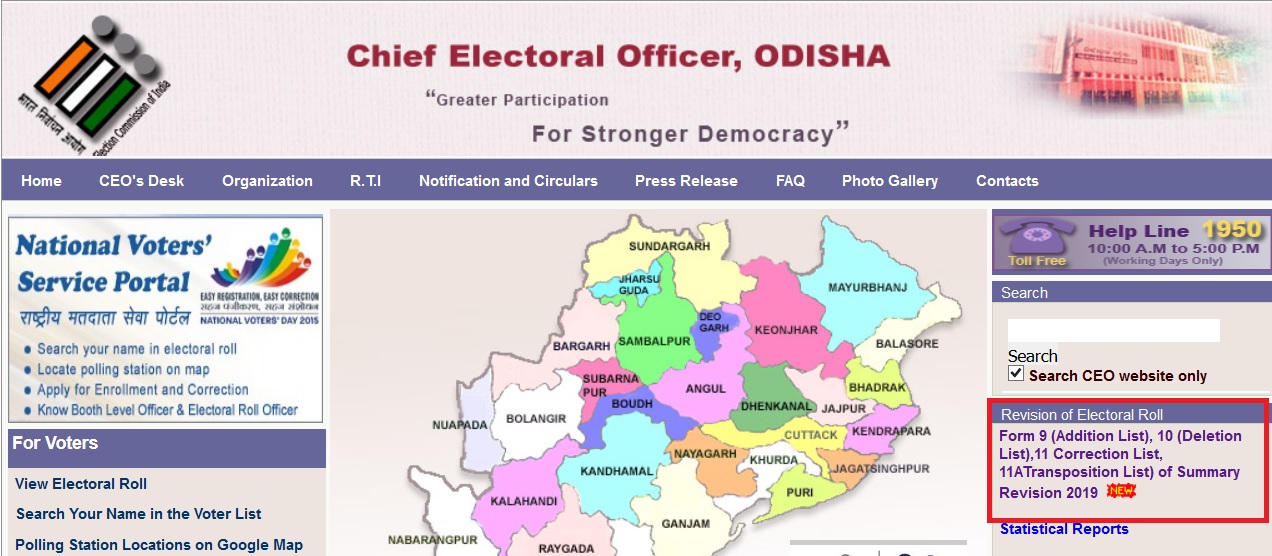 Step 3 : Next click on Proceed button
Step 4 : Select your District (Name) and AC No (Name)


Step 5 : Select the form link to view the list
Form Details
Form No | Description
Form-9 – List of Applications for inclusion received in Form 6
Form-10 – List of Applications for objection to inclusion of names received in Form 7
Form-11 – List of Applications for objecting to particulars in entries in electoral roll received in Form 8
Form-11A – List of applications for transposition of entry in electoral roll Received in Form – 8A
FAQs
1. What is an electoral roll ?
An electoral roll is a list of all eligible citizens who are entitled to cast their vote in an election. The electoral roll are prepared Assembly Constituency wise. An electoral roll for any Assembly Constituency is sub-divided into parts corresponding with the polling booths. Normally one part will correspond one polling booth.
2. What is Summary Revision of Electoral Roll ?
During Summary revision of electoral rolls which takes place every year, the existing electoral rolls are published at each polling booth locations to invite claims and objections for inclusion, deletion, correction and transposition.
After due enquiry all the claims and objections are decided and a supplementary electoral roll is prepared and published.
3. What is continuous updation of Electoral Roll ?
Even after the final publication of electoral rolls the process of continuous updation of electoral rolls goes on and the citizens are free to file any application with the Electoral Registration Officer for addition, deletion, modification and transposition.
As per the law, your name can be registered upto the last date of filing of nominations by candidates that has been notified by the Election Commission for any general election or bye-election to an Assembly or Parliament.
4. I have completed 18 years of age recently. How to register my name in the electoral roll ?
Revision of electoral rolls are done every year during a specified period when eligible persons are given an opportunity to register themselves by applying in Form-6 before the concerned Booth Level Officer (BLO) at Polling Station (Booth) location or in the office of the Electoral Registration Officer-cum-Sub-Collector/AERO.
During the non-revision period, a person can apply for inclusion of his name in the office of the concerned ERO-cum-Sub-Collector.
5. I am a Sadhu (Saint) eligible to be an elector and have changed my worldly name. Can I enter my rechristened name with suffix of my Guru's name instead of my father?
Yes, you can enter your name in Form-6 for inclusion in electoral roll by writing your rechristened name and name of your Guru in the column related to Father/Mother/Husband and entering "Others" in the column of relations.
6. My name, relations name and sex has wrongly been reflected in EPIC / Electoral Roll. How to rectify it.
If any particulars in the Electoral Roll are to be modified / corrected such as name, house number, middle name, last name, age, sex, EPIC number etc. a claim in Form-8 can be filed before the Booth Level Officer / ERO / AERO / Online.