eci.gov.in Lok Sabha & State Legislative Assemblies General Election 2019
Organisation : Election Commission of India ECI
Announcement : Lok Sabha & State Legislative Assemblies General Election 2019
Applicable State : Andhra Pradesh, Arunachal Pradesh, Odisha & Sikkim
Election Date : 11 April 2019 to 19 May 2019
Home Page : https://eci.gov.in/
You can now ask your questions about this election.
Please go to the bottom of this page.
ECI Lok Sabha & State Legislative Assemblies General Election
Announcement of Schedule for General Elections to Lok Sabha and Legislative Assemblies in Andhra Pradesh, Arunachal Pradesh, Odisha & Sikkim, 2019
Update : Lok Sabha General Election 2019 Phase 2 Schedule : www.electionin.in/6992.html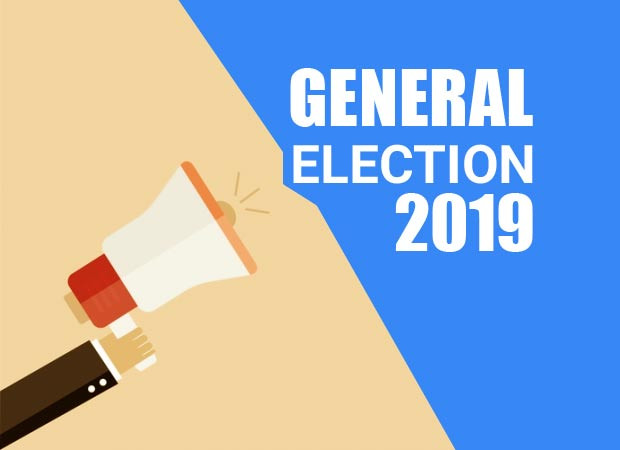 Lok Sabha Election Schedule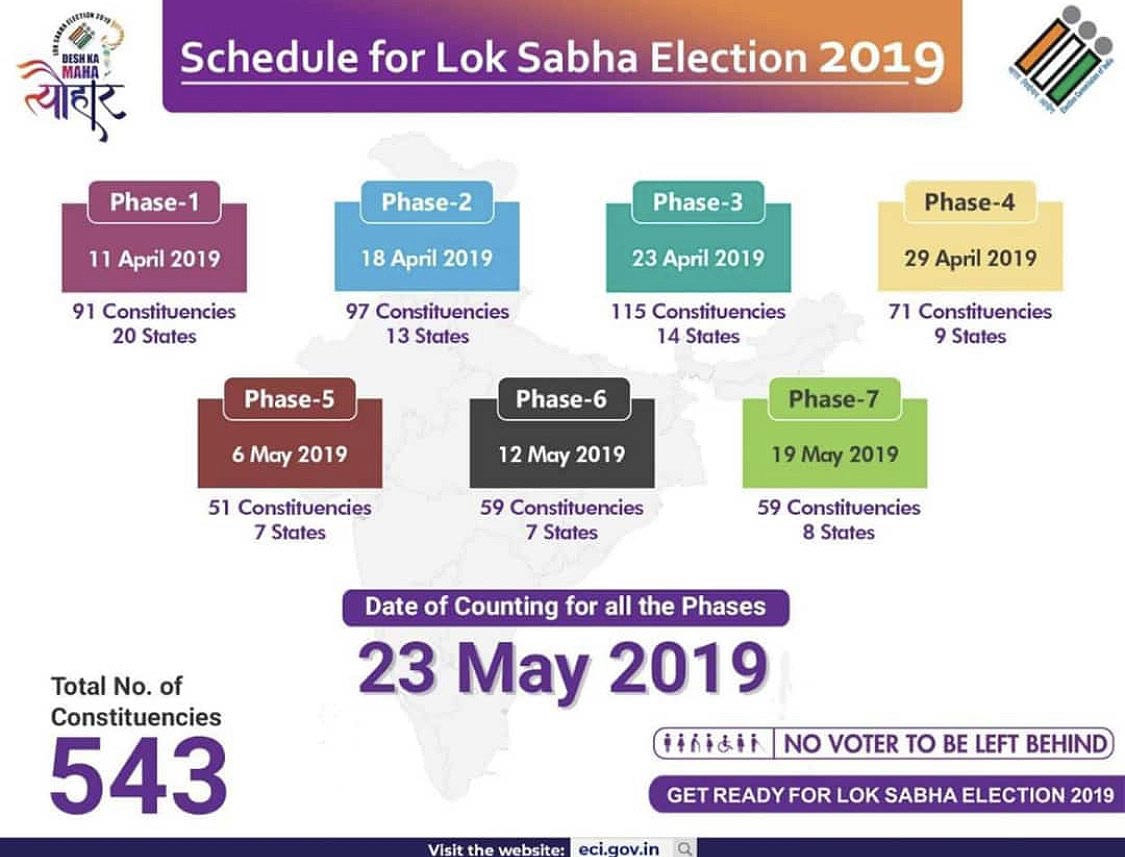 Poll Days & Corresponding Schedule :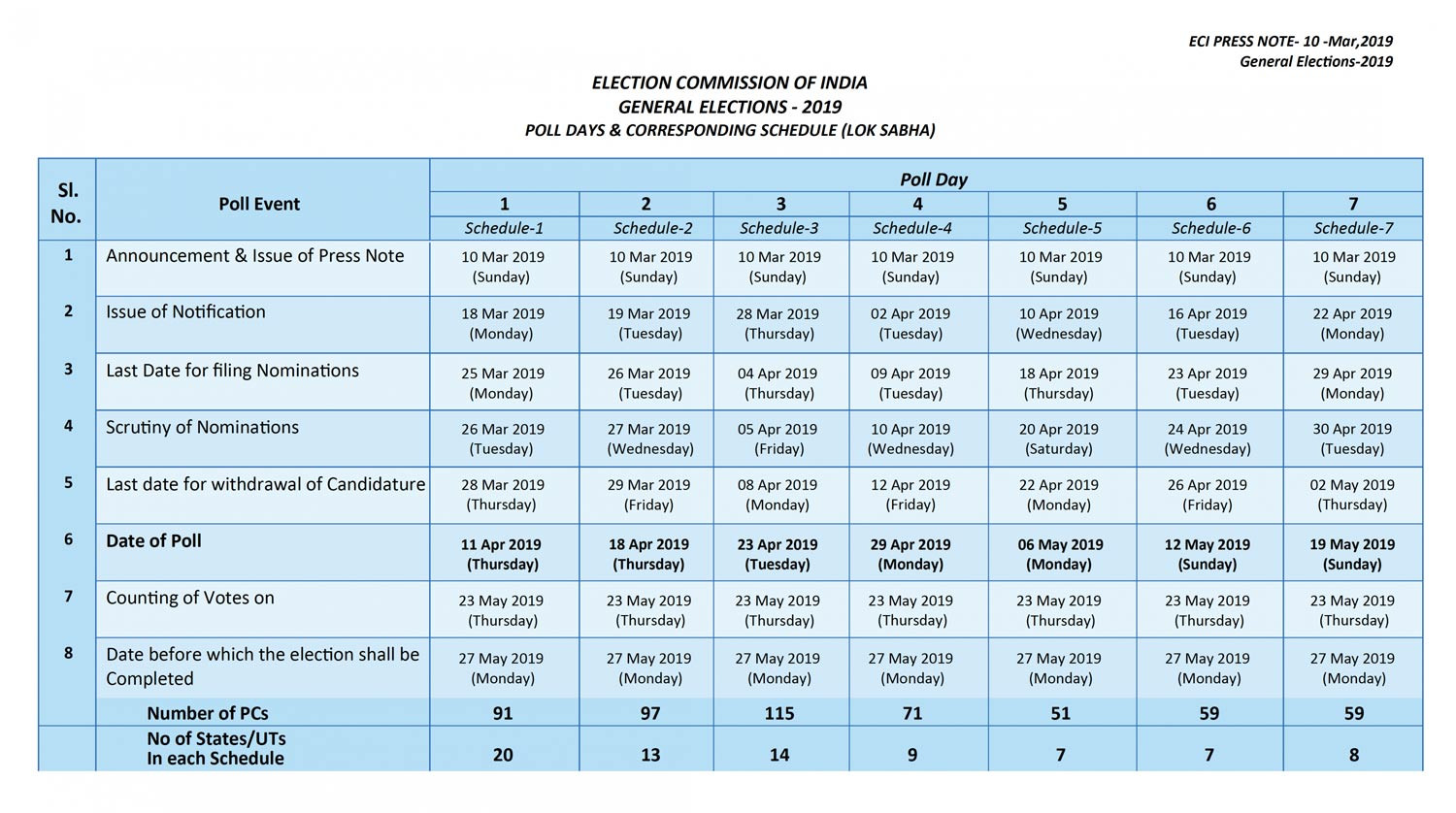 ** The date of poll in respect of Bye Elections for 18 ACs of Tamil Nadu, as mentioned at Sl.No. 14 to Sl. No. 31, as already scheduled for Phase 2(Two) of Election, shall be read as 18th April, 2019 instead of 23rd April, 2019.
** In the details of Schedule No. 3, 4 & 5 in respect of PC (3-Anantnag) in Jammu & Kashmir, the Date of Issue of Notification, Last Date of Filing Nominations, Scrutiny of Nominations & Last Date for Withdrawal of Candidature, shall be read as 28th March, 2019, 04th April, 2019, 05th April, 2019 & 08th April, 2019, respectively only with Dates of Poll as 23rd April, 2019, 29th April, 2019 & 06th May, 2019, respectively.
Accordingly, the election schedule for Anantnag PC of Jammu & Kashmir will be held as per schedule
| | | |
| --- | --- | --- |
| 1 | Issue of Notification­ | 28.03.2019 |
| 2 | Last Date of filing Nominations | 04.04.2019 |
| 3 | Scrutiny of Nominations | 05.04.2019 |
| 4 | Last date for withdrawal of Candidature | 08.04.2019 |
| 5 (a) | Date of poll (in Anantnag District) | 23.04.2019 |
| 5 (b) | Date of poll (in Kulgam District) | 29.04.2019 |
| 5 (c) | Date of poll (Shopian & Pulwama Districts) | 06.05.2019 |
| 6 | Counting of Votes | 23.05.2019 |
Legislative Assembly Election Schedule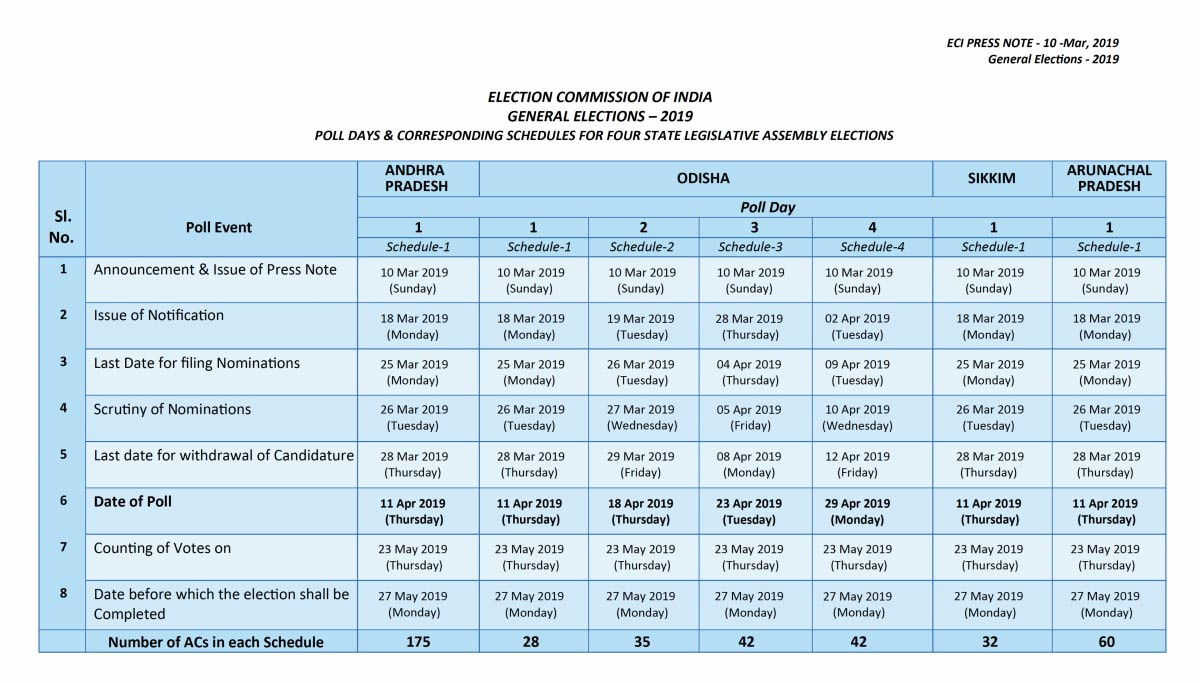 Electronic Voting Machines
The Commission has decided to use EVMs and VVPATs in the bye-elections in all the polling stations. Adequate numbers of EVMs and VVPATs have been made available and all steps have been taken to ensure that the polls are conducted smoothly with the help of these machines.
Identification Of Voters
In consonance with the past practice, the Commission has decided that the voter's identification shall be mandatory in the aforementioned bye- elections at the time of poll. Electoral Photo Identity Cards (EPIC) shall be the main document of identification of a voter.
Braille Photo Voter Slips
To ensure wholesome and constructive participation and active engagement of Persons with Disabilities (PwDs) in the election process, the Commission has directed to issue Accessible Photo Voter Slips with Braille Features to Persons with Visual Impairment or Blind, over and abovenormal Photo Voter Slips to be issued.
Notification :
https://www.electionin.in/uploads/pdf2019/6747-PN.pdf
FAQs
1. What is an Electronic Voting machine? In what way its functioning is different from the conventional system of voting?
Electronic Voting Machine (EVM) is an electronic device for recording votes. An Electronic Voting Machine consists of two Units – a Control Unit and a Balloting Unit – joined by a five-meter cable.
This will enable the voter to cast his vote by pressing the blue button on the Balloting Unit against the candidate and symbol of his choice.
2. How can EVMs be used in areas where there is no electricity?
EVMs do not require electricity. EVMs run on an ordinary battery assembled by Bharat Electronics Limited/Electronics Corporation of India Limited.
3. What is the maximum number of votes which can be cast in EVMs?
An EVM being used by ECI can record a maximum of 2,000 votes.
4. What is Voter Verifiable Paper Audit Trail (VVPAT)?
Voter Verifiable Paper Audit Trail (VVPAT) is an independent system attached with the Electronic Voting Machines that allows the voters to verify that their votes are cast as intended.
When a vote is cast, a slip is printed containing the serial number, name and symbol of the candidate and remains exposed through a transparent window for 7 seconds. Thereafter, this printed slip automatically gets cut and falls in the sealed drop box of the VVPAT.
5. What is the Model Code of Conduct?
The Model Code of Conduct for guidance of political parties and candidates is a set of norms which has been evolved with the consensus of political parties who have consented to abide by the principles embodied in the said code and also binds them to respect and observe it in its letter and spirit.