Makkal Needhi Maiam Candidates List For Lok Sabha Election 2019 : Tamil Nadu
Party Name : Makkal Needhi Maiam MNM (#Maiam) (#MakkalNeedhiMaiam) (People's Justice Centre)
Announcement : MNM Candidates List For Lok Sabha Election 2019
Politician/Leader Name : Kamal Haasan
State : Tamil Nadu/ Tamilnadu/ Thamizh Nadu
Party Launched On : 21st Wednesday 2018
Website : http://www.maiam.com/
You can now ask your questions about this election.
Please go to the bottom of this page.
Makkal Needhi Maiam Candidates List
Kamal Haasan released the first list of 21 candidates from his party Makkal Needhi Maiam on Wednesday. The second list, along with the candidate list for the Assembly by-elections and party manifesto, will be released on March 24 in Coimbatore.
Related : Kamal Haasan Makkal Needhi Maiam Party Member Registration/ Join Tamil Nadu : www.electionin.in/5911.html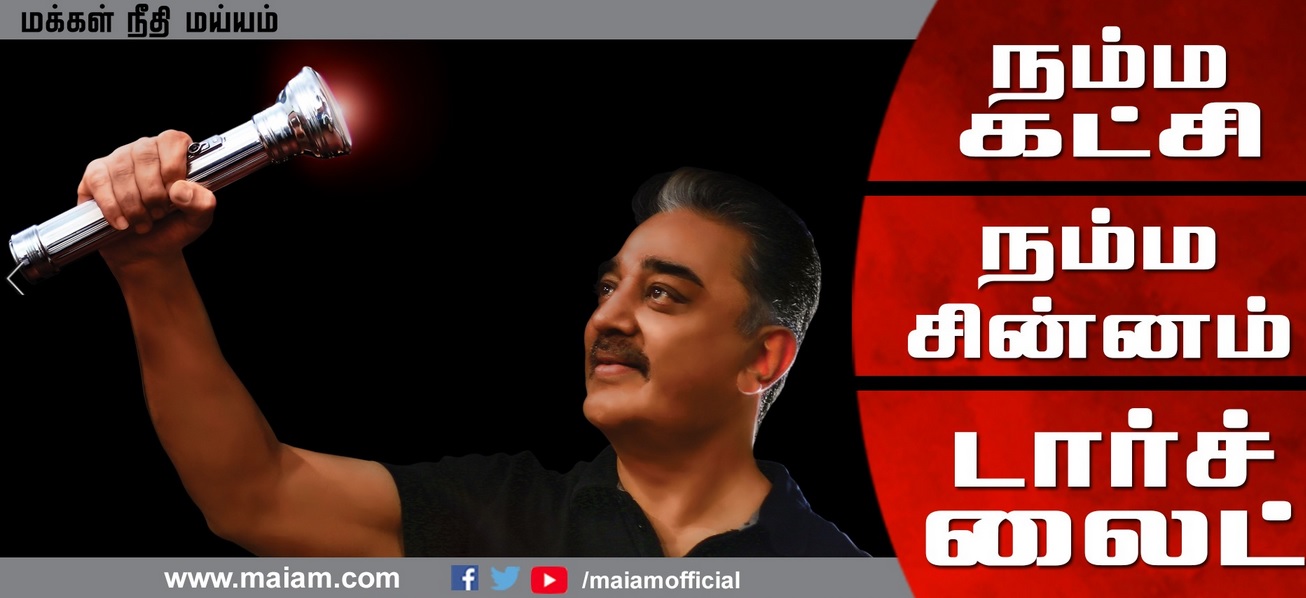 MNM's First List
** Thrivallur – Dr M Lokarangan
** Chennai – north AG Maurya
** Central Chennai – Kameela Nazer
** Thiruperumbur – Shivakumar
** Arakonam – N Rajendran
** Vellore – R Suresh
** Krishnagiri – S Sreedaranya
** Dharmapuri – I Rajashekaran
** Villipuram – Adv Anbuinvazhamozhi
** Salem – Prabhu
** Nilagiri – Adv Rajendran
** Dindigul – Dr S sudhakar
** Trichy – V Anandarajan
** Chidambaram – T Ravi
** Mailadudorai – Rafaullah
** Nagapattinam – Kuruvai
** Theni – S Radhakrishnan
** Tuticorin – TPS Pon Kumaravel
** Tirunelveli – Velimallai
** Kanyakumari – Ebinizar
** Puducherry – MAS Subramanium
State By-Assembly Elections Application Form
Maiam State By-Assembly Elections Nomination as per party President Mr. Kamal Haasan's call for action.
Steps :
Step 1 : Visit the official website of Makkal Needhi Maiam through provided above.
Step 2 : Then download the application form from the official website

or you can directly download it from below mentioned link.
Download Application Form :
https://www.electionin.in/uploads/pdf2019/7027-Form.pdf
Step 3 : Fill the application form with required details and attach your recent passport size photo.
Application Format
Fill the application with the following details,
** Applicant's name
** Name of the Person you Recommend
** Assembly Constituency in which you wish to contest
** DD number & Date
1. Name
2. Birthday
3. Gender
4. Father/Mother/Husband/Wife's Name
5. Educational Qualification
6. Occupation
7. Languages Known
8. Permanent Address
9. Adhaar number
10. Mobile number & Email ID
11. Are you a member of Makkal Needhi Maiam? If yes, mention the MNM membership number
12. A short description of your social service (If any)
13. Are you based out of the Assembly constituency that you wish to contest in? If, no, which Assembly constituency does it come under?
14. State the main reasons why you want to contest in the 2019 State By – Assembly Elections
15. Positions held in the Government by you or your close relatives (If any)
16. Have you contested before in Parliamentary/ Assembly/ Municipality elections? If yes, provide more details
17. Were you a part of any other party before joining MNM? If yes, provide more details
18. Is there any case pending against you? If so, provide details of the same. Have you ever been convicted of any offence by any court of Law? If yes, provide the details
19. A short note on the measures you will take in your constituency, if elected
20. Have you filed your Income Tax?
Documents attached :
** PAN Card Xerox
** Voter's ID Xerox
Declarations :
Accept the following declarations and put your signature in the application form and submit it to the head office.
** I, hereby declare that the details furnished above are true to my best knowledge. I also declare that I will bear the full responsibility if the details are false.
** I enclose Herewith ……. dated …. for the sum of Rupees ……………/- (………. Thousand only in favour of "MAKKAL NEEDHI MAIAM" towards fee for the 2019 State By-Assembly Elections candidate application form.
** I declare that I will not ask the amount paid for this form to be refunded if I don't get selected to contest the elections.
** I declare that I will furnish all necessary information that are asked by the Election Committee during the interview.