NVSP User Registration : National Voter's Service Portal
Organisation : National Voter's Service Portal
Facility : NVSP User Registration
Applicable For : All India
Website : https://www.nvsp.in/Account/Register
NVSP User Registration
National Voter's Service Portal (NVSP) was developed to provide single window service to electors. The voters can log on to NVSP portal (nvsp.in) to avail the following facilities.
Related / Similar Facility :
NVSP Online Registration of Voter ID Card
Electors Verification Program (EVP) 2019 has started from 1st September and will continue till 15th October 2019.
Services/Facilities
** Verification and corrections of the existing details
** Authentication of entry by furnishing scanned/DigiLocker copy of one of the following documents
(i) Indian Passport
(ii) Driving License
(iii) Aadhaar Card
(iv) Ration Card
(v) identity card for Government/Semi Government Officials
(vi) Bank Passbooks
(vii) Farmer's Identity Card
(viii) PAN Card
(ix) Smart Card issued by RGI
(x) Latest bill for water/electricity/telephone/gas connection.
** Furnishing details of family members and verifying their entries too
** Updating details of family members already enrolled as voters but permanently shifted or expired
** Furnishing details of eligible un-enrolled family members (born on or before 01.01.2001) and prospective electors born between (02.01.2002 till 01.01.2003) who are residing with the elector.
** Furnishing GIS Coordinates of House (through Mobile App) to avail better electoral Services
** Feedback regarding existing Polling Stations and suggestions on alternate PS, if any
How to Register?
Just follow the below steps to register in NVSP.
Steps :
Step 1 : Visit the official website of NVSP through the URL https://www.nvsp.in/.
Step 2 : Next click on the "Login/Register" button in the left side of the menu.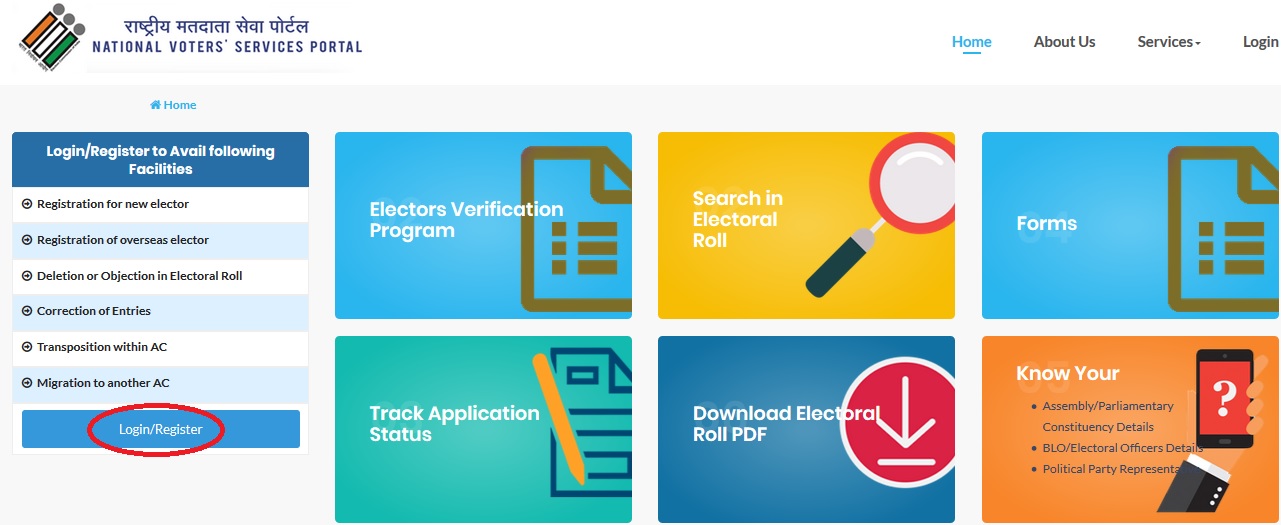 Step 3 : If you don't have account, click on Register as a New User link in the login page.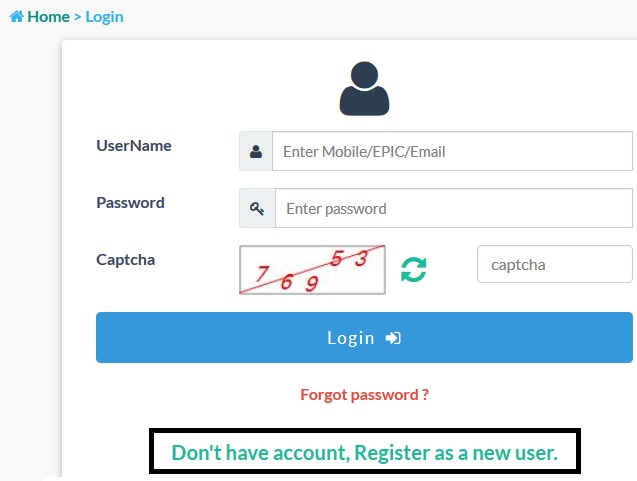 Step 4 : Enter your Mobile number, Captcha and click on "Send OTP" button.
Step 5 : Enter your OTP number and click on "Verify" button.

Step 6 : After that, enter your Epic Number and your Email Id.
Step 7 : Create a new Password and Confirm your Password.
Step 8 : Finally click on "Register" button.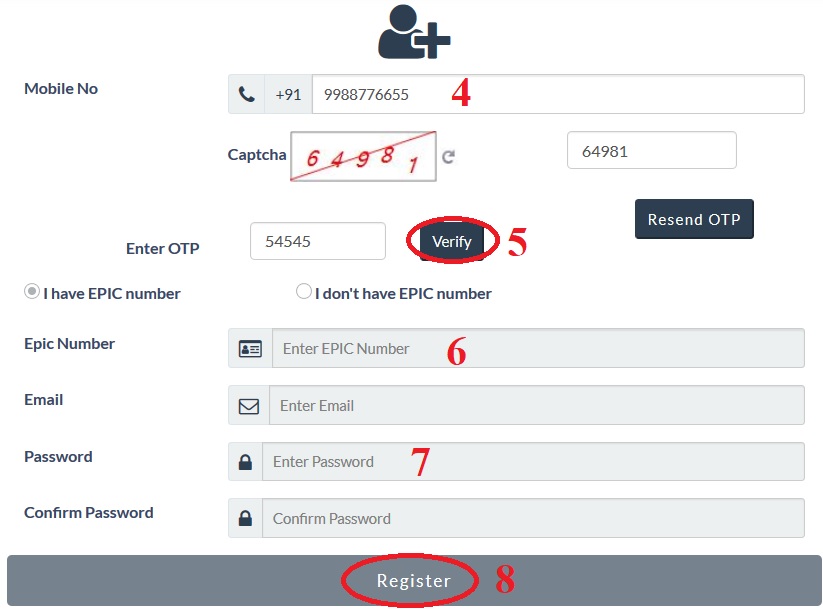 Password Pattern :
** Password must be at least 6 characters long.
** Passwords must have at least one digit ('0'-'9').
** Passwords must have at least one special character.
** Passwords must have at least one uppercase ('A'-'Z').
Login
Already registered user can directly login with the following details,
Step 1 : Enter User Name (Mobile/EPIC/Email)
Step 2 : Enter your Password
Step 3 : Enter the captcha as shown in the image.
Step 4 : Finally click on "Login" button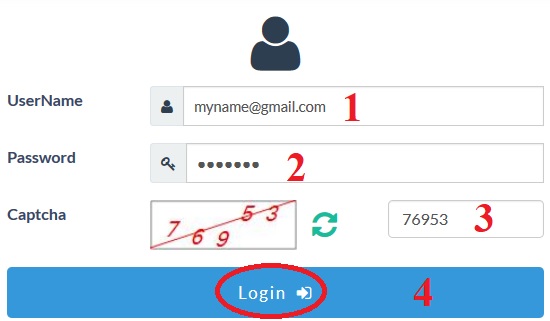 Forgot Password?
You have to enter the following details to reset your password,
Steps :
Step 1 : Enter Your Registered Mobile Number and click on "Send OTP" button
Step 2 : Next enter the OTP number and Create a New Password
Step 3 : Re-enter your password for confirmation and click on "Reset Password" button.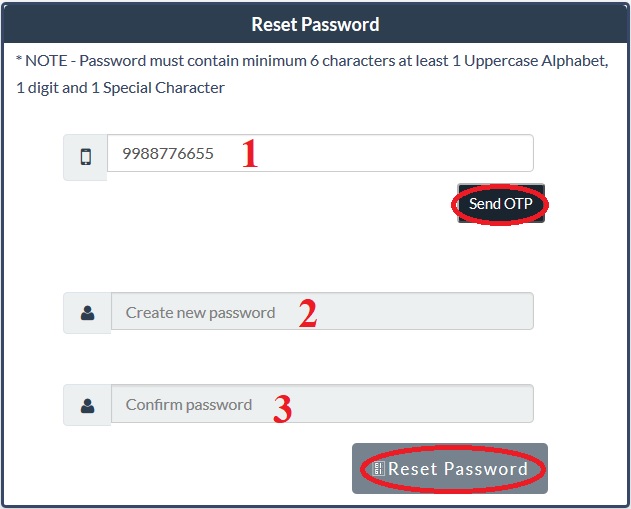 NOTE – Password must contain minimum 6 characters at least 1 Uppercase Alphabet, 1 digit and 1 Special Character
EVP Schedule
Revised schedule for Special Summary Revision of Photo Electoral Rolls w.r.t. 01.01.2020 as the qualifying date and Electors Verification Programme (EVP). The Commission has decided to extend the period for completion of EVP and accordingly changed the schedule of SSR, 2020, as per the table given below.
As general election to the Legislative Assembly of Delhi is due in the first quarter of next year, a separate schedule has been fixed for EVP and SSR, 2020 in Delhi.
S. NO.
Activity
Period
Delhi
Remaining states
1.
EVP and other pre-revision activities including rationalization of polling stations.
To be extended upto 31st October, 2019 (Thursday)
To be extended upto 18th November, 2019 (Monday)
2.
Publication of Integrated draft electoral roll
By 15th November, 2019 (Friday)
By 25th November, 2019 (Monday)
3.
Period for filing claims & objections
From 15th November, 2019 (Friday) to 16th December, 2019 (Monday)
From 25th November, 2019 (Monday) to 24th December, 2019 (Tuesday)
4.
Disposal of Claims and Objections
By 26th December, 2019 (Thursday)
By 10th January, 2020 (Friday)
5.
Preparation of Supplements
 By 2nd January, 2020 (Thursday)
 By 17th January, 2020 (Friday)
6.
Final Publication of electoral roll
On 6th January,  2020 (Monday)
On 20th January,  2020 (Monday)
Contact Us
For details of eligibility criteria or any other additional information related to electoral forms, kindly visit https://eci.gov.in
For any other technical feedback or issues on the portal kindly send your feedback to ECI Technical Support
Toll free Number – 1800111950