wberms.gov.in : Electoral Roll Management System West Bengal
Organisation : West Bengal Chief Electoral Officer (CEOWB)
Service Name : West Bengal Electoral Roll Management System (WBERMS) / Search Electoral Roll
Applicable State : West Bengal
Website : http://wberms.gov.in/
You can now ask your questions about this election.
Please go to the bottom of this page.
WBERMS Electoral Roll
West Bengal Electoral Roll Management System (WBERMS) / Search Electoral Roll
Related / Similar Post : CEO West Bengal PWD Elector Registration

How To Search Electoral Roll?
Just follow the simple steos mentioned below to search electoral roll.
Steps:
Step-1 : Go to the link http://wberms.gov.in/web_searchengine/
Step-2 : Select the "Search Type"
Step-3 : Then select the "Search By" option
Step-4: Enter the EPIC Number
Step-5 : Enter the Captcha
Step-6 : Click on "Search" button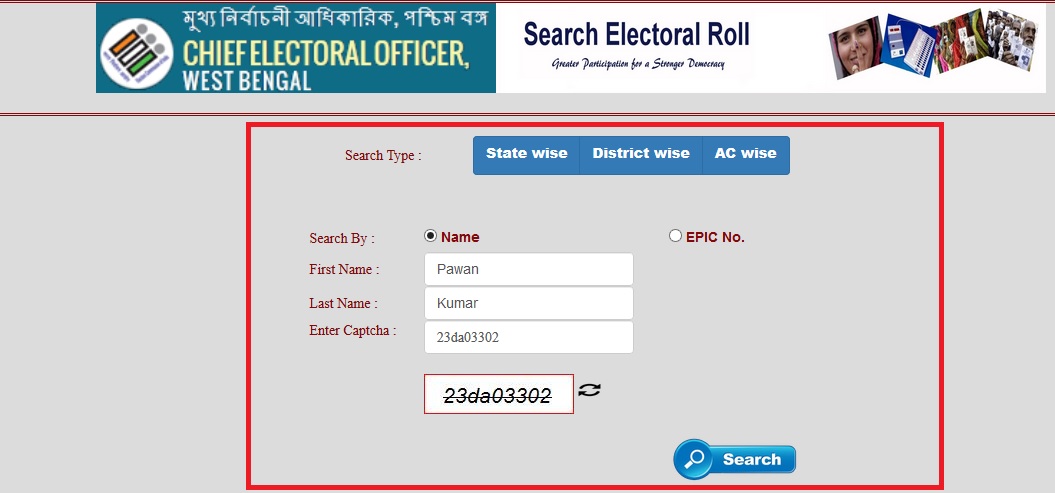 You will get the following Information,
** Number and Name of AC
** Part Number
** Name
** Sex
** EPIC Number
** Father's/Mother's/ Husband's Name
** Voter Serial Number
** Polling Station Number and Name
** Poll Date, Day and Time
Note-1 : This output is computer generated and is provided only for the information to the voter.
Note-2 : This is not an identity document.
SMS 51969 to Know Your Electoral Details – Type WB<space>EC<space>your Voter Identity Card Number and send it to 51969
CEOs Message:
It is a pleasure to introduce the website of the office of the Chief Electoral Officer, West Bengal in a new look, designed to cater to the needs & requirements of the citizens in much more user friendly & comprehensive manner.
In today's world, website being widely accepted & acclaimed as an essential tool for information & communication, I take this opportunity to present our endeavour to reach out to the citizens through up to date and essential information pertaining to the election related matters and as well to provide an easy platform for the citizens to ventilate their feedback & requirements it is perceived that Toll Free Helpline, SMS service, GIS facilities provided through this website will help the discerning citizens in finding solution to their queries and difficulties. Suggestion and opinion for improving this website is solicited.
Government of West Bengal:
The Government of West Bengal also known as the State Government of West Bengal, or locally as State Government, is the supreme governing authority of the state of West Bengal in India. It consists of an executive, a judiciary and a legislative
Like other states in India, the head of state of West Bengal is the Governor, appointed by the President of India on the advice of the Central government. His or her post is largely ceremonial.
The Chief Minister is the head of government and is vested with most of the executive powers. Kolkata, the capital of West Bengal, houses the West Bengal Legislative Assembly. The secretariat is located in the Nabanna building in the district of Howrah, adjacent to the state capital. The Calcutta High Court is located in Kolkata, which has jurisdiction over the whole of West Bengal and the Andaman and Nicobar Islands.
Contact
Helpline Number : 1950
Email : ceo-election-wb@nic.in