ceobihar.nic.in Final Electoral Roll 2019 : CEO Bihar
Organisation : CEO Bihar
Announcement : Final Electoral Roll 2019
Applicable For : Bihar Citizens
Search Here : http://ele.bihar.gov.in/pdfsearch/
You can now ask your questions about this election.
Please go to the bottom of this page.
CEO Bihar Final Electoral Roll
CEO Bihar Final Electoral Roll 2019 (Final Roll W.R.T. 01.01.2019)
Related / Similar Post : CEO Bihar TC/GC Electoral Roll Inclusion of Name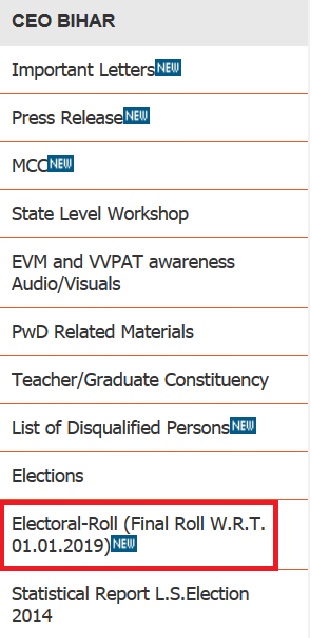 How to Search?
Just follow the below steps to check the Final Electoral Roll 2019.
Steps :
Step 1 : Go to the official website of CEO Bihar through provided above.
Step 2 : Select your Assembly Segment
Step 3 : Select Your Part Number
Step 4 : Select Mother Roll/Supplement
Step 5 : Enter the captcha image.
Step 6 : Finally click on the "View" button.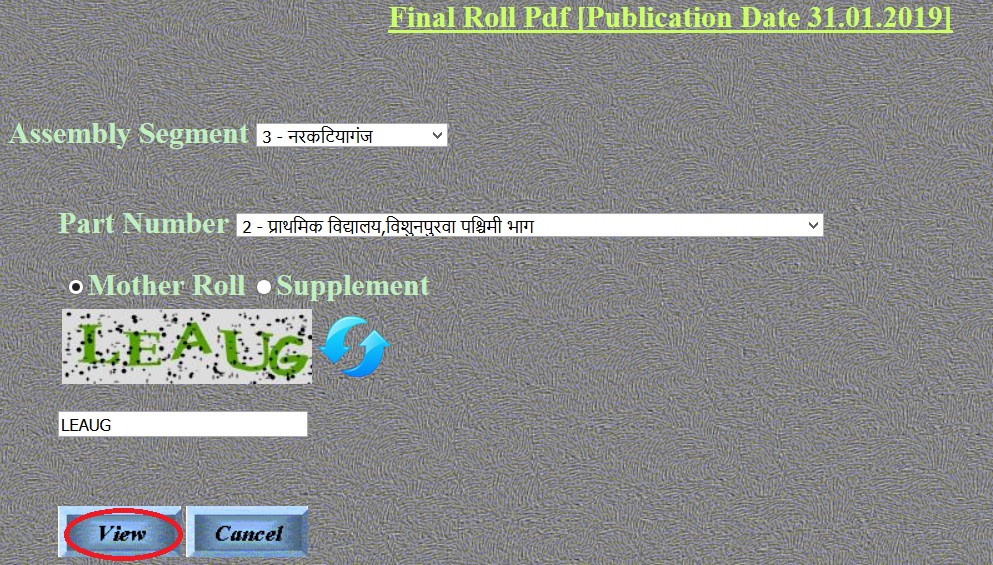 FAQs
1. What is an Electronic Voting machine? In what way its functioning is different from the conventional system of voting?
Electronic Voting Machine (EVM) is an electronic device for recording votes. An Electronic Voting Machine consists of two Units – a Control Unit and a Balloting Unit – joined by a five-meter cable.
The Control Unit is placed with the Presiding Officer or a Polling Officer and the Balloting Unit is placed inside the voting compartment.
Instead of issuing a ballot paper, the Polling Officer in-charge of the Control Unit will release a ballot by pressing the Ballot Button on the Control Unit. This will enable the voter to cast his vote by pressing the blue button on the Balloting Unit against the candidate and symbol of his choice.
2. When was the EVM first introduced in elections?
EVMs were first used in 70-Parur Assembly Constituency of Kerala in the year 1982.
3. How can EVMs be used in areas where there is no electricity?
EVMs do not require electricity. EVMs run on an ordinary battery assembled by Bharat Electronics Limited/Electronics Corporation of India Limited.
4. What is the maximum number of votes which can be cast in EVMs?
An EVM being used by ECI can record a maximum of 2,000 votes.
5. What is Voter Verifiable Paper Audit Trail (VVPAT)?
Voter Verifiable Paper Audit Trail (VVPAT) is an independent system attached with the Electronic Voting Machines that allows the voters to verify that their votes are cast as intended.
When a vote is cast, a slip is printed containing the serial number, name and symbol of the candidate and remains exposed through a transparent window for 7 seconds.
Thereafter, this printed slip automatically gets cut and falls in the sealed drop box of the VVPAT.
6. How can a voter be sure that the EVM is working and his vote has been recorded?
As soon as the voter presses the `blue button' against the candidate and symbol of his choice, the lamp against symbol of that particular candidate glows red and a long beep sound is heard.
Thus, there is both audio and visual indications for the voter to be assured that his vote has been recorded correctly.
In addition, VVPAT provides an additional visual verification in the form of paper slip to the voter so he can ensure that his vote has been correctly recorded for the candidate of his choice.