ECI cVIGIL Citizen Mobile App : Election Commission of India
Organisation : Election Commission of India
Facility Name : ECI cVIGIL Citizen Mobile App
Applicable For : Citizens of India
Website : https://cvigil.eci.gov.in/
You can now ask your questions about this election.
Please go to the bottom of this page.
ECI cVIGIL Citizen Mobile App
cVIGIL provide time stamped evidentiary proof of model code of conduct / Expenditure Violation, having live photo/video with auto location data.
Related / Similar Service :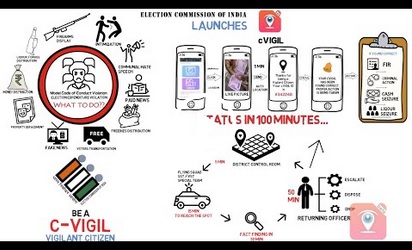 This unique combination of timestamping, live photo with auto location can be fairly relied upon by election machinery to navigate to the right spot and take prompt action. The GIS-based dashboard provides strong decision tool to drop and dispose of frivolous and unrelated cases even before they are acted upon, thereby reducing the workload of election machinery on ghost complaints.
Presently there is a lack of fast information channel to transmit and track complaints on MCC violations. Delay in reporting of Model Code of Conduct (MCC) violations has often resulted in the culprits escaping detection from the flying squads of election commission entrusted to ensure enforcement of Model Code of Conduct.
Further, lack of any documented, untampered, evidence in the form of pictures or videos was a major hurdle in establishing the veracity of a complaint ex-post facto. The Commission's experience has also shown a significant percentage of reporting was false or inaccurate, which led to wastage of precious time of Field Units.
The new cVIGIL app launched by Election Commission of India is expected to fill in all these gaps and create a fast-track complaint reception and redressal system. 'cVIGIL' stands for Vigilant Citizen and emphasizes the proactive and responsible role citizens can play in the conduct of free and fair elections.
Citizens are, encouraged to use the ECI main website for lodging the other type of complaints or call the National Contact Centre at 1800111950 or State Contact Centre at 1950 for other complaints.
Features
c-VIGIL Citizen Mobile App :
C-Vigil was built to report Model Code of Conduct violations during elections. The app prioritized the speedy and effective actions by authorities and promised users status reports within 100 minutes. This "100-minute" rule made the app a reliable way to report violations. The 100-minute time-lines infused the energy into the enforcement staff and a sense of urgency prevailed.
Register Complaints: The app allows every citizen within the election boundaries to report the Model Code of Conduct / Expenditure Violations by taking photo/audio/video through their mobile phones by signing into the application.

Anonymous User: The app also allows the citizen to complain anonymously, without revealing their personal details/ identity.

Geotagging: The app automatically enables a geo-tagging feature when users switched on their camera in the cVIGIL to report a violation, which helps the field unit to know the precise location of the incident.
cVIGIL Investigator App:
cVIGIL Investigator app has been made for the Field units like Flying Squads & Static Surveillance Team to investigate the cVIGIL Citizen cases and conduct Suo-Moto case reporting.
Instant Action on incidents: The application forced the Field Unit to reach the spot of the incidence within 15 mins and only then they could upload their report.

Suo Moto: One of the important byproducts of the cVIGIL was the use of cVIGIL by Field Units themselves to file suo-moto cases.
cVIGIL Monitor App:
cVIGIL Monitor App provides access to all cases filed in the jurisdiction to Chief Electoral Officers (CEOs) and ECI Officials from where they can emphasize and highlight important cases for speedy investigation and redressal.
Monitor Live Case: This technology was used for live case monitoring of all the violation complaints directly through mobile devices.

Emphasize/ Highlight cases: Officers can highlight/ Emphasize the cases for prompt resolution and enforce the time-bound pressure on flying squads.

Live Status of complaint: Real-time tracking allows citizens and other officials, to check the progress of complaints.
cVIGIL Decider App & RO Dashboard:
cVIGIL Decider App/ Dashboard enables the District Electoral Officer (DEO) / Returning Officers (ROs) to decide upon the cases which are sent by the Investigator at the convenience of their mobile phones or system.
View Live cases: Decider can access all MCC Violation complaints and check real-time progress.

Action on Cases: Decider/ Returning Officer can take actions such as Drop, Decide, and Escalate on cVIGIL cases after the report submitted by the Field Unit.
cVIGIL Observer App:
cVIGIL Observer App allows Observers and other staff authorized by ECI, to see MCC/ expenditure violation, Appointed for general observers, expenditure observers, police observers may login with Observer ID and Password and avail below features
** Observers can view the cases falling under their jurisdictions
** Highlight the cases if urgent attention required
** Give observation after the investigation is complete by FST.
** Observers can comment only, after a Field Unit has submitted 'action taken' reports on them.
Downloads
The mobile app is available at,
Google Play Store :
https://play.google.com/store/apps/details?id=in.nic.eci.cvigil
Apple Store :
https://apps.apple.com/in/app/cvigil/id1455719541